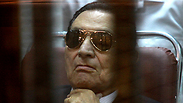 נשיא מצרים המודח חוסני מובארק בית משפט קהיר
Photo: AP
An Egyptian court on Wednesday sentenced ousted president Hosni Mubarak to three years in prison on charges of stealing public funds.

"The court orders Mohamed Hosni Mubarak to be sent to jail for three years," said judge Osama Shaheen as Mubarak looked on from a cage flanked by his sons, who were sentenced to four years in jail on the same charges.

The court fined Mubarak and his sons 21.197 million Egyptian pounds ($2.98 million) and ordered them to repay about 125 million Egyptian pounds of funds the court said they had stolen.

The three Mubaraks were convicted of charges that they embezzled millions of dollars' worth of state funds in over a decade toward the end of Hosni Mubarak's rule. The funds were meant for renovating and maintaining presidential palaces but were instead spent on upgrading the family's private residences.

Hosni Mubarak "had an obligation to restrain himself and his sons from stealing state funds ... but instead, he gave himself and his sons license to embezzle them," Judge Shaheen said as he handed down the verdict.

Mubarak, who turned 86 this month, attended Wednesday's hearing in a suit and tie. His two sons wore white prison uniforms.

They have all been held in custody since 2011 but only time in custody in connection with this case - abount a year since the embezzlement charges were raised - will be deducted from the sentences.

Under Egyptian law, maximum sentences for embezzlement vary depending on the nature of the crime, but 15 years' imprisonment is not uncommon.

Mubarak was found guilty in June 2012 of failing to stop the killing of more than 900 protesters during the 18-day revolt against his rule and sentenced to life imprisonment.

His conviction was overturned in January 2013. That was appealed by prosecutors, and a retrial began in April 2013. He was ordered released in August last year pending his graft trial, but was kept at a military hospital in a suburb south of Cairo. Given his poor health, Mubarak is likely to serve his sentence in the hospital.

Mubarak's sons are also being retried on separate graft charges while Hosni's former intelligence chief, Abdel Fattah al-Sisi, is poised to be elected president next week.

The verdict may please some Egyptians who lived through three decades of autocracy under Mubarak, but analysts say that businessmen still loyal to him are still influential. Rights groups say that abusive practices of the Mubarak regime are alive and well as another former military man prepares to take the reins of power.

Mubarak has been under house arrest at a military hospital since August pending retrial in a case of complicity in killing protesters during the 2011 uprising that ended his rule.

It was not immediately clear if the three years Mubarak and his sons have already spent in jail would be counted toward the sentence and if Mubarak would return to the army hospital or be sent to prison.