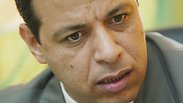 Mohammed Dahlan
Photo: Shaul Golan
RAMALLAH - A Palestinian court has sentenced in absentia an exiled rival of President Mahmoud Abbas to two years in jail for "insulting state institutions", raising pressure on Mohammed Dahlan after months of mutual recriminations.

The ruling was dated March 6, but the verdict was only published in a West Bank newspaper on Tuesday.

Dahlan, who lives in the Gulf, said the court decision was politically motivated and accused Abbas of seeking "to tame the respected Palestinian judiciary" and pursuing a vendetta of "personal hatred" against him.

Related stories:

Dahlan, a former Gaza security chief-turned-businessman, was close to Abbas for years, but was banished in 2010 after suggesting the Palestinian leader's two adult sons profited financially from their father's position.

He was ousted from the group in 2011 following accusations of corruption. He always asserted his innocence and remains a powerful figure on the sidelines, seen by supporters as a possible successor to the ageing Abbas.

The court ruling said Palestinian officials, including a top security leader, had accused Dahlan of defamation and slander for what they said was his description of Palestinian security forces in the West Bank as guards serving only to protect Israeli settlers.

The complaint against Dahlan filed by the six top security commanders loyal to Abbas was widely seen as a political maneuver.

The court said Dahlan had also defamed Abbas by accusing him of manipulating the Palestinian Authority, which has limited autonomy in the West Bank.

Analyst Abdel Majed Swailim said the court ruling was part of Abbas' campaign against Dahlan.

"It's clear that President Abbas decided to get rid of him (Dahlan)," said Swailim. "It's going to be much more difficult for Dahlan now, after this court ruling, to play any role in the Palestinian political life."

It was not immediately clear if the Palestinian government would ask Abu Dhabi to extradite Dahlan, who enjoys relative support in some Arab capitals, including Cairo.

In March, the personal feud erupted again when Abbas accused Dahlan of deceit, corruption and selling out Palestinian national interests to foreign powers.

At the same time, there have been signs that Dahlan is positioning himself for a future leadership battle.

A first test would be the convention of Abbas' Fatah movement, tentatively scheduled for August, where a new leadership is to be chosen.

The two-year sentence imposed on Dahlan would make it less likely for him to attempt a return to the West Bank, even though he could try to appeal.