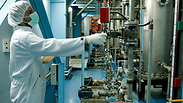 Isfahan uranium enrichment facility (Archive)
Photo: EPA
Iran and the International Atomic Energy Agency (IAEA) agreed to implement five new measures to improve the transparency of the Islamic Republic's nuclear program, the UN agency announced Wednesday.
The UN atomic watchdog said that Iran, which denies seeking or ever having sought nuclear weapons, has undertaken to provide information on the new steps "by August 25".
The announcement comes after a fourth round of talks between Iran and six world powers in Vienna last week that both sides indicated made no progress towards a comprehensive deal over Tehran's nuclear program.
Related stories:
One of the key elements in this sought-after deal would be Iran answering some of its many questions on the alleged "possible military dimensions" (PMD) of Tehran's nuclear program - in other words efforts to design a nuclear bomb.
Iran says that the trove of evidence presented by the IAEA on these activities, which the Vienna agency believes took place before 2003 and possibly since, is based on faulty intelligence provided by the CIA and Israel's Mossad.
These negotiations take place parallel to negotiations between Iran and the P5+1 (the United States, Russia, China, France, UK and Germany) aimed at reaching a final-status agreement guaranteeing the peaceful nature of the program.
The IAEA and Iran signed an agreement in February on transparency on seven points, which resulted in early May in the inspection of two nuclear sites in Iran.
In a potentially important step forward in the IAEA's efforts to advance its inquiry, it said Iran would provide information "with respect to the allegations related to the initiation of high explosives, including the conduct of large-scale high-explosives experimentation in Iran," and modelling a nuclear warhead from uranium metal.
Iran would also provide "information and explanations related to studies made and/or papers published in Iran in relation to neutron transport and associated modelling and calculations and their alleged application to compressed materials".
Both issues were part of a landmark report issued by the IAEA in 2011 that included a trove of intelligence information pointing to past tests and experiments in Iran that could be relevant for the development of nuclear weapons. Iran denies having worked on a nuclear weapons capability in any form.
Iran must also provide information on the development of detonators for a bomb. In 2011, the IAEA had expressed concern about the "exploding bridge wire detonators" because of their "possible application in a nuclear explosive device."
The existence of Iranian studies in this area was clearly identified in 2011 by the IAEA as an "area of ​​special concern" for the agency, which considered it unlikely that such research can be applied to any purpose other than military purposes.
IAEA investigators recently came away disappointed after Iran told them that experiments with detonators were for civilian and conventional military use only. It was a similar answer to one six years ago, when the agency first linked such tests to work on setting off a nuclear weapon.
The IAEA and Iran have also reached an agreement granting the UN agency access to research and development centrifuges - the devices that enrich uranium - as well as production workshops and centrifuges storage facilities.
How Iran responds to the IAEA's questions is regarded as a litmus test of its readiness to start engaging with the investigation into what the UN agency calls the possible military dimensions of its nuclear program.
US officials say it is vital for Iran to resolve the IAEA's concerns if broader diplomatic efforts by Washington and five other world powers to resolve their decade-old nuclear dispute with Iran are to succeed.
The Associated Press, Reuters and AFP contributed to this report.