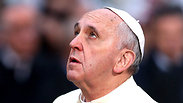 Pope Francis
Photo: Getty Images
Israel issued restraining orders against several Jewish right-wing activists on Wednesday, restricting their movements over concern that they could try to disrupt a May 24-26 visit to the Holy Land by Pope Francis.
Police spokesman Micky Rosenfeld said a "number of right-wing activists" have been restrained for their intention to carry out "provocative and illegal acts" during the three-day visit to the Holy Land. The order restricts them from Jerusalem's Old City, where Francis will visit, and orders them to stay away from the pope, Rosenfeld said.
Honenu, a Zionist organization which offers legal assistance to right-wing activists, said that at present they are aware of restraining orders issued against two minors who study near King David's Tomb.
Related stories:
The order against one of them, a Natanya resident, bars him from Jerusalem, and orders him to stay in Natanya, and spend the night at his parents' house. The other boy, from Kiryat Arba, received two orders putting him on a full house arrest from Saturday evening to Sunday at midnight.
Honenu attorney Itamar Ben-Gvir claimed that "this is part of the hysteria the Israeli police and the Shin Bet are in. They're trying to put a gag over the mouths of young people seeking to protest the visit. Israel has turned into an undemocratic state."
The restraining orders have likely been issued in response to a campaign by right-wing activists to stop the regulation of Christian prayer at the Mount Zion compound.
It is believed King David is buried on the first floor of the Mount Zion compound, and that a room on the second floor is the Cenacle, where Jesus and his followers had the Last Supper.
King David's Tomb is under the jurisdiction of the Department of Holy Sites in Israel, while the Cenacle is under the jurisdiction of the Interior Ministry.
At present Christians are allowed to visit the Cenacle, but not to pray in it (with an exception of two days out of the year).
Right-wing activists claim the pope's visit will lead to the regulation of Christian prayer at the site.
The pope is set to visit Jordan, the West Bank and Israel during a three-day visit beginning Saturday.
Noam (Dabul) Dvir and Yoav Zitun and Reuters have contributed to this report.