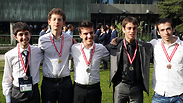 Israeli students at last year's International Physics Olympiad in Denmark (archives)
Photo: Eli Raz
Israeli students returned Wednesday from the Asian Physics Olympiad (APhO) 2014 in Singapore with two silver medals, three bronze medals and three honorable mentions. Each of the delegation's eight members came home with his or her own personal achievement.

Twenty-seven countries participated in the competition. Israel was represented by 12th graders from eight high schools across the country.

World of Science

Particle accelerator research organization votes unanimously on Israel's admission. Science minister sees acceptance as proof of 'ability to reconcile political disagreements we have with Europeans.'

Elisha Modelevsky from the Israel Arts and Science Academy in Jerusalem and Guy Segall from the Hebrew Reali School of Haifa each won a silver medal. Re'i Henigman from the Misgav Community High School, Ronny Frumkin from the Rogozin School in Ashdod and Guy Yagev from Makif Gimel in Beersheba each took home a bronze medal.

Yonatan Aharoni from Ironi Aleph High School in Modiin, Yoav Tzfati from the Hebrew University High School and Yarden Rashti from Jerusalem's Ironi Dalet High school received an honorable mention.

"It's a very good feeling coming back to Israel with gold medals and achievements for the entire team," said Guy Segall, who already won a silver medal in last year's International Physics Olympiad in Denmark.

Segall and the other team members are now preparing for their participation in this year's International Physics Olympiad, which will be held next month in Kazakhstan.

"We are happy about the achievement and about honoring the State of Israel," said Segall. "We have been working very hard since the beginning of the year to reach these achievements. It was a tough competition, and I was not sure we would win, but we did."

Dr. Eli Raz, head of the Department of Physics and Optical Engineering at the ORT Braude College, has been leading the Physics Olympiad project for the past 20 years on behalf of the Technion – Israel Institute of Technology. Raz said Wednesday that "this is a great achievement for the Israeli team of students. The success is a combination of talent and hard work."

Raz added that the selection process is very strict, and that the goal is to locate students with a good thinking ability. Some 2,600 students participate in the first stage of the selection process, and 300 of them move on to the next stage. Thirty-eight students are selected for a two-week camp held at the Technion.

"We don't see the Olympiad as a goal but as a measure for nurturing original thinking," Raz noted. "The training system is not based on high technical abilities but on the ability of solving a challenging exercise.

"This approach of stressing the thought proce4ss rather than the technique brings our students closer to physics, and the large majority of them choose physics for their academic studies."