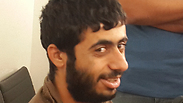 Hussein Murad
Photo: Ahiya Raved
An indictment was filed in Haifa District Court Thursday morning against Hussein Murad, a 24-year-old resident of Qabatiya near the northern border of the West Bank, accused of attempting to kidnap an Israeli citizen in affiliation with the terrorist organization Islamic Jihad.

The indictment letter presented to the court blamed Murad for two instances in which he reportedly threw Molotov cocktails at vehicles in protected areas as well as illegally entering Israel in his attempt to kidnap a resident of Mitzpeh Avtalion from his home.

Murad's plot was thwarted on April 17 when, armed with a knife, he tried to enter the house of an Israeli in order to kidnap anyone who was at home. He reportedly intended to ransom his hostage to the Israeli government in exchange for the release of Palestinian prisoners.

Related Stories

Israel and Ela Shay, were the Avtalion homeowners faced with Murad's attack which according to them, was only foiled when Israel fired his pistol at his attacker, causing him to flee.

"We acted just as we should," said Israel. "There was a bit of excitement, but it's very good to hear that they caught him."

Ela continued to describe the attack and their reactions. "We were just the two of us at home and there were hard knocks on the door. Abnormally, the door was closed and that was lucky. When we opened the door he just burst in. He appeared to be under a lot of stress."

"He came in aggressively and I told him, 'Man, this is too much'," added Israel. "He grabbed me forcefully with his hand and then I understood that this is a violent incident, so I pushed him outside. Everything happened in fractions of a second."

According to Israel, Murad turned around to try and close the door before he was forced out. That's when Ela saw the knife in his pants. "I yelled that he has a knife, so Israel fought with him and I run upstairs to get the gun and call the police," said Ela.

"She brought the gun," Israel continued the story. "At the same moment I was leaning my shoulder on the door so that he couldn't break in. When there was a moment of calm I cocked the gun and went out after him. At that point he tried to get in through the second door to the house, which is made of glass."

"I went to the other door, going through the house, and I stood one meter from him and aimed the pistol at him. He was holding a big rock in his hand and it took him a few seconds to realize that I was aiming at him, but when he saw the gun he dropped the rock, turned around, and ran."

According to Israel, Murad ran into the ravine next to his house and when he turned around as if to renew his attack, Israel fired several shots at him.

Police and nearby residents were unable to catch Murad on the same day, but following an investigation police and the Shin Bet recently took him into custody.