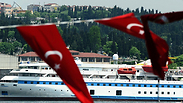 ISTANBUL - A Turkish relief agency said on Thursday it would oppose what it called an imminent Israeli offer to pay compensation for a commando raid on its Gaza-bound aid flotilla in exchange for dropping lawsuits over the attack.

The two nations, erstwhile allies, have been negotiating for months to end a diplomatic crisis over the Israeli commandoes' boarding of the Mavi Marmara, a Turkish ship challenging Israel's naval blockade of Palestinian-run Gaza Strip in 2010. Eight Turks and a Turkish-American died during the operation.

In a rapprochement brokered by Washington, Prime Minister Benjamin Netanyahu apologized to his Turkish counterpart Tayyip Erdogan last year and pledged compensation to the bereaved or hurt.

Related stories:

Humanitarian Relief Foundation (IHH) said on Thursday it had been in close contact with Turkish government officials and had heard Israel and Turkey were about to finalise the terms of a formal settlement.

There was no immediate comment from either the Turkish or Israeli governments.

"We are hearing that an agreement will soon be announced on the compensation Israeli state will pay as an outcome of talks ... One of Israel's conditions is to drop the court cases," said Ugur Yildirim, a lawyer for IHH.

"We are warning the authorities against this clear violation of global law principles," he told reporters.

Israel is facing public and private prosecutions in Turkey over the deaths. Israel has previously dismissed the cases as "political theatre".

Turkey was once Israel's closest regional ally, though their relationship had deteriorated before the raid.

Last month Erdogan said the two countries were days or weeks away from an agreement.

The son of one activist who died aboard the Mavi Marmara told the news conference the families would accept neither apology nor compensation.

"We do not accept any agreements unless the blockade on Gaza is lifted. Israel will have to take a step back if we stand tall," Ismail Bilgen told reporters.

Israel says the blockade on goods destined for Gaza is aimed at preventing the Palestinian militant group Hamas that controls the territory from smuggling in weapons..