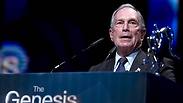 Bloomberg accepting the Genesis Prize
Photo: AFP
NEW YORK - Former New York Mayor Michael Bloomberg became the first ever recipient of the $1 million Genesis Prize, an award which he humbly suggested belonged to others who he simply represents.

Bloomberg was in Jerusalem on Thursday to accept the prize, dubbed the "Jewish Nobel," which is being awarded to him in recognition of years of public service and philanthropic efforts.

"This is very flattering, but at the end of the day this prize belongs to the people who worked with me on different projects over the years," said Bloomberg. "I'm just a messenger. Mostly this prize belongs to my parents and my sister. I think if my mother were alive she'd tell me something like, 'Just don't let it go to your head Michael.'"

Related stories:

Bloomberg told Yedioth Ahronoth that he grew up in a Jewish home that observed traditions and kept kosher. "Our religion requires a huge commitment because of its loaded history," said Bloomberg. "Our commitment is to ensure that every person can exercise their rights."

"We are obligated to behave differently than other peoples. That's why I fought for the right to build a mosque near Ground Zero. In my eyes, a religious view is a deeper issue that is manifested in your codes and traditions."

"Beyond that, everything I do and believe in is connected to Judaism. And Jews have a tradition of hard work and passion."



Bloomberg also expressed the special connection he maintains to Israel itself. "Israel is the only democracy in this part of the world, and that's a fundamental matter. It's a special place that teaches people how important it is to work hard."

"Israel is important to the US just like the US is important to Israel, and they share many values and ideas in common," Bloomberg added.

Has something changed in the last few years in the relationship between Israel and the US?

"I really hope not."

Bloomberg was also hesitant to criticize any party over the failed Israel-Palestinian peace talks. "I've learned from experience that it's really hard work to be a president, prime minister, governor or mayor."

"No one needs a counselor like me to give advice to leaders. Anyone who knows me knows that if I have anything to say in these situations, I do it in private," said Bloomberg.

What should be the future status of Jerusalem?

"Jerusalem is a wonderful city and it's very important to the world, but regarding status - that's a question that Mr. Netanyahu needs to answer, not me."

Bloomberg is one of America's wealthiest people, reportedly worth some $30 billion. During his tenure as mayor of New York City, he was happy with a paycheck of one dollar per year and spent $650 million from his own pocket to promote his goals for the city.

The billionaire businessman, who already donates hundreds of millions of dollars a year to charity, said he will hold a global competition to award the money for good causes.

Bloomberg said he wants to "advance the idea of Tikkun Olam," using the Jewish term in Hebrew for making the world a better place.

For Bloomberg, the money is a small part of his philanthropic activities. Last year, he said his foundation gave away more than $400 million. Bloomberg Philanthropies supports dozens of projects worldwide meant to improve the environment, public health, education, the arts and government innovation.

But the former mayor said average people who give modestly are the real heroes of philanthropy.

"It's nice to be able to give away big money, but there are an awful lot of people who will give away a little bit of money ... They are making a bigger sacrifice than I am," he said.

The Genesis Prize was founded by the Office of the Prime Minister of Israel, the Genesis Philanthropy Group and the Jewish Agency for Israel. The Genesis group seeks to enhance a sense of Jewish identity among Russian-speaking Jews worldwide.

"I think that in creating the Genesis Prize, there is a need to identify each year one outstanding individual, one individual who embodies in many ways Jewish traditions and Jewish values," Netanyahu said at the ceremony. "The most important tradition that we have is that we cherish our heritage, but we are always seeking new things."

"And I can think of no one more worthy of this honor – which we present tonight for the very first time – than my friend Michael Bloomberg," he added.

The foundation said Bloomberg's planned competition would accept proposals from all over the world for potential projects "guided by Jewish values" that address pressing issues in creative ways. Up to 10 winning teams will receive at least $100,000.

There have been attempts to convince you to run for president of the US. Have you decided for sure that you won't run in the next elections?

"I've said this in the past and nothing has changed as far as I'm concerned: I won't run for president of the United States. That's the unequivocal decision I've come to," Bloomberg said.

Prime Minister Benjamin Netanyahu was one of more than 400 dignitaries attending the award ceremony, along with business leaders, Nobel laureates, philanthropists and entertainers. Late night comedy legend Jay Leno hosted the event and Grammy-winning pianist Evgeny Kissin performed.

Stan Polovets, the prize's chair, said "the idea behind the prize is to recognize exceptional human beings who achieved extraordinary success in their professional career, have impacted humanity in a positive way, have a strong sense of Jewish values and ethics that have inspired them and are willing to serve as role models to the next generation of Jews."

Bloomberg, who served as New York City's mayor from 2002 to 2013, said he embraces that role and that his own Jewish values were fostered at home.

He recalled how, as a child, he once asked his father why he made a $50 donation to the National Association for the Advancement of Colored People, even though the family was Jewish, not black.

"He said 'because discrimination against anyone is discrimination against everyone, and if we want to have rights we have to make sure that others have it,'" Bloomberg said. "I think that is one of the most defining things of my whole life."

Bloomberg said he hopes he can inspire others - Jews and non-Jews alike.

"It would be wonderful if not just Jews got the message that we all want to be free and the only way to do that is to give other people their rights and work hard," he said. "That would be wonderful for Israel and Judaism but also for the civilized world."

Ynetnews contributed to this report.