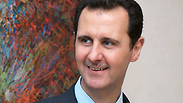 Bashar Assad. Has full support of Druze residents of Golan Heights
Photo: AFP
Druze residents living in the Israeli Golan Heights filed a request Wednesday to the commander of the UN base near the Quneitra Crossing demanding that they be permitted to exercise their right to vote in the Syrian presidential elections.

They specified in their appeal their wish that polling stations be set up in their villages in the Golan Heights so that they would be able to take part in choosing the next president of Syria, in elections that will be held on June 3.

Related stories:

"It's our right to participate in the Syrian presidential elections, as it is the right of any Syrian citizen," said Druze resident Ata Farhat. "We speak on behalf of the majority of the Golan Heights residents, more than 80 percent want to take part in the elections. Farhat added that "each one can choose whomever he likes," stressing that the choice is not limited to current-President Bashar Assad.

Farhat believes that the elections are a significant component in the democratic system his community is trying to construct. "All we want is to maintain a strong and unified Syria. I hope that our request is accepted and we will continue to try until our voices are heard. I believe that the request is harmless, and is part of the democracy we are striving to achieve; if our call is not answered, there's nothing we can do."

Marzook Shaalan, who also signed the letter, expressed hope that the request doesn't fall on deaf ears. "A large percentage of the residents in the Golan wish to take part in the elections for the next president. Hopefully our request is taken into account and receives support from those in charge," he added.

According to estimates, no surprises are expected should the Druze in the Golan Heights vote, as the majority intends to vote for Assad.

"If they let us take part in the elections, I will choose Assad," said a local resident from the town of Majdal Shams. "Assad is the suitable leader, he can defend the country from the plot against Syria, behind which stand Israel and the United States, and Arab countries like Saudi Arabia and Qatar. Assad is a wholesome, strong individual, which is why we need a leader like him."

A resident from the Druze town of Buq'ata added that "almost all the residents of the Golan Heights support Assad. He's the only candidate I'll choose if they let us participate in the elections. Even if we don't take part, we will support him from afar as we believe in his righteous way."