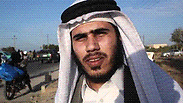 The top leader of an al-Qaeda-inspired group in Egypt's restive Sinai and three of his associates were killed in a drive-by shooting in the peninsula on Thursday, senior Egyptian security officials said.

The development deals a heavy blow to the militant group, which has claimed scores of deadly attacks across Egypt and in Israel since the ouster of Islamist President Mohammed Morsi last July. It is also a boost for Egypt's military-backed authorities ahead of the country's presidential elections next week.

According to three senior security officials, Shadi el-Manaei, who headed Ansar Beit al-Maqdis (or the Champions of Jerusalem as the group is also known) and the three other militants were found dead after unidentified gunmen sprayed their vehicle with bullets on a road in central Sinai.

Related Stories

The officials said that according to the police investigation, 15 men in vehicles and armed with automatic machineguns, attacked el-Manaei's car to avenge the killings of tribesmen by his terror group.

The tribesmen were killed after the militants claimed they had cooperated with police against Ansar Beit al-Maqdis. The officials spoke on condition of anonymity because they were not authorized to talk to the media.

Ansar Beit al-Maqdis first arose in Sinai, where for years militant groups largely made of up local Bedouin had carried out attacks, lobbing rockets into neighboring Israel and opening fire on soldiers and police officers. Attacks escalated after the 2011 fall of autocrat Hosni Mubarak, but increased dramatically after Morsi's overthrow at the hands of the military.

Just two months ago Ansar Beit al-Maqdis suffered an additional setback when one of its leaders was reportedly killed in a car accident while transporting an explosive which detonated as a result of the crash.

The terrorist organization was found responsible for a 2011 attack on Highway 12 in Israel which killed eight Israelis as well as suicide car bombing targeting Egypt's interior minister in September, an attack he escaped from unharmed. Scores of Egyptian police officers and soldiers have been killed in attacks by suspected Islamic militants since. El-Manaei, the mastermind behind the group's attacks, has long been on the run.

Egypt's military-backed interim government has blamed Morsi's Muslim Brotherhood group for the violence, outlawing it and calling it a terrorist organization. But the Brotherhood denies being involved in the violence.

The United States has designated Ansar Beit al-Maqdis a foreign terrorist organization.
Police vs. protesters
Elsewhere in Egypt, police beat protesters with batons and rifle butts to disperse a rally on Thursday in the northern port city of Alexandria, held to denounce a rights lawyer's two-year prison sentence, two activists said.

The rally was in support of Mahienour el-Masry, a rights lawyer convicted earlier this year of breaking a controversial law that bans public demonstrations without advance police approval. She was sentenced to two years in prison and her sentence was upheld this week.

Activist Ranwa Youssef and attorney Mohammed Ramadan said police later arrested 19 activists over the rally, but released four - two lawyers and two women.

The convicted el-Masry has joined several icons of Egypt's 2011 uprising that toppled longtime autocrat Mubarak who have been imprisoned under a controversial law on demonstrations adopted late last year.

Egypt's retired army chief, Abdel-Fattah el-Sissi who is the front-runner in next week's presidential elections, says he will keep the law if elected in the May 26-27 vote.

Many pro-democracy activists maintain the imprisonments are part of a concerted campaign to isolate and stain the reputation of the youth leaders of the anti-Mubarak revolt.

At the same time, there has been a massive crackdown against the Brotherhood - at least 16,000 Brotherhood members and allies have been jailed and hundreds have been killed during protests since July. Morsi and most other senior group leaders are in detention.

Also Thursday, a Christian was killed and two people, a Christian and a Muslim, were wounded when they were caught in the crossfire between two feuding groups of Muslims in the southern city of Luxor. The three were outside an Anglican church in the city center when the shooting took place, said the city's security chief, Mustafa Bakr.

Egypt's Coptic Christian make up about 10 percent of the country's estimated 90 million citizens. They have long complained of discrimination by the Muslim majority, but the two communities have generally lived in peace with each other.

The Associated Press contributed to this report.