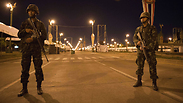 In the wake of Thailand's military coup Thursday, Israeli tourists traveling in the country told Ynet that little has changed in the everyday lives of the locals while increased military presence can hardly be noticed.

"From afar it sounds scary, but the Thai soldiers are friendly and smile," said Rabbi Nahmani Wilhelm, a Chabad delegate in Bankok.

"No one has reported any violence or pointless friction. The army announced a curfew and said that all of the shops have to be closed. There are also rumors that the army is going to disconnect the internet so everyone's waiting to see how much worse the situation will get if at all."

Related Stories

While the Chabad house reported that none of their Israeli guests have felt enough concern for the situation to cut their trips short, Nati Hadad who serves as the commander of an Israeli search and rescue team on the islands of Ko Pha Ngan and Ko Samui said that life is continuing as normal under his watch as well.

"I'm in touch with the local police chief and he says that in reality the curfew is only for those who plan on taking part in protests and not for Israeli tourists specifically, or tourists at all," said Hadad.

"The malls got instructions from the army to close their stores at 10pm but that's just to show that the army controls people through the media. In the rest of islands everything is normal. The clubs and pubs are open and Israelis are vacationing here like any other day as if nothing happened."

"Here in the islands it doesn't affect anything," Hadad said concerning the military coup which he admitted sounds dangerous from Israel.

Eden Zrihan from Be'er Sheva arrived in Bankok four days ago after traveling in Nepal for a month.

"I saw this coup step by step," said Zrihan. "At first when I went through the city I didn't make the connection between the traffic and the soldiers. I noticed that they were gradually constructing barriers and afterwards I saw that they were building military guard posts."

Zrihan said that while he doesn't take an active interest in politics, it's still difficult not to ask what's happening in Thailand. "While events were unfolding in the news, my family called from Israel to ask how I was doing and said they were concerned, but everything here is fine."

The military take-over comes after six months of political dead-lock and protests among a people divided in their loyalties.