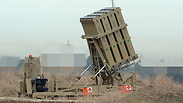 Iron Dome battery stationed in Ashdod (Archive)
Photo: Herzl Yosef
The US House of Representatives, controlled by a pro-Israel Republican majority, adopted the National Defense Authorization Act for 2015 that includes the approval of $600 million military aid package for Israel for missile defense.

The bill authorizes $350.9 million for the Iron Dome rocket defense system, that protects from short and medium-range missiles and rockets, and $268.7 million for David's Sling - providing protection from long-range missiles - and Arrow 3 - that could intercept ballistic missiles before they enter the atmosphere. Both David's Sling and Arrow 3 are missile defense programs developed in cooperation with the United States.

The House also voted on an act obligating the president to report to Congress every three months on the status of various Qualitative Military Edge (QME) issues for Israel.

Related stories:

The adoption of the NDAA reiterates that it is "the policy of the United States to take all necessary steps to ensure that Israel possesses and maintains an independent capability to remove existential threats to its security and defend its vital national interests," an amendment to the act said.

Another amendment adopted states that "Congress declares that it is the policy of the United States to fully support Israel's lawful exercise of self-defense, including actions to halt regional aggression."

A more problematic part of the legislation is its clauses on Iran.

It affirms "America's opposition to Iran's quest for a nuclear weapon and support of Israel's ability to defend itself against the Islamist regime."

The legislation also advocates "strengthening the US forward military presence to deter Iran from any aggressive military action and to improve America's military capability to address such a threat."

The act also stresses that Congress must be involved in any lifting of sanctions on Iran.

Discussions on the act in the Senate began following the House approval. Unlike the House, the Senate has a democratic majority that is unlikely to approve the act as is.

While they are willing to aide Israel, senators from Obama's party don't wish to subject the administration's foreign policy to Congress.

Therefore there is a good chance the provisions of funds for missile defense systems could be approved without including the Iranian nuclear threat issue in the legislation.

Israel is the largest cumulative recipient of US foreign assistance since World War II. According to a Congressional Research Service report, Israel has received to date $121 billion (current, or non-inflation-adjusted, dollars) in bilateral assistance from the United States.

Israel also enjoys benefits not given to any other ally country. US aid for Israel is generally delivered in the first 30 days of the fiscal year in full, while other allies receive funds in installments. Israel can also use some US military assistance for research and development in the US for military purchases from Israeli manufacturers. It's also allowed to use cash flow financing for arms purchases from the US.

In 2007, Israel signed a 10-year agreement with the Bush administration that includes a $30 billion military aid package to be provided from 2009-2018. The 2014 Consolidated Appropriations Act approved a $3.1 billion aid defense package, and another $504 million in funding for research, development, and production of the Iron Dome anti-rocket system ($235 million) and of the joint US-Israel missile defense systems David's Sling ($149.7 million), the Arrow improvement program (or Arrow 2, $44.3 million), and Arrow 3 ($74.7 million).

For 2015, the Obama administration is requesting an additional $3.1 billion in military aid to Israel. The Missile Defense Agency is requesting $96.8 million for joint US-Israeli programs, and $175.9 million for Iron Dome funding.

Ynetnews contributed to this report.