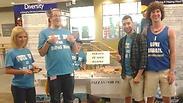 Students supporting Israel at DePaul University
DePaul University's student body voted on Friday in favor of a referendum calling on the university to withdraw its investments in companies that do business with the IDF and corporations operating in the West Bank and Gaza, the DePaulia student newspaper reported.

A total of 2,908 students at the Chicago Catholic university voted, and the measure passed with 54.2 percent of the vote.

While the Student Government Association (SGA) is required to adopt the position of any referendum that passes, the vote is not binding and any divestment action would have to be taken by the administration.

Related stories:

But the request is "problematic in a number of ways," said university president Rev. Dennis H. Holtschneider.

"What is socially responsible to one organization or set of interests may be objectionable to another," Holtschneider wrote in an e-mail to students and faculty sent shortly after the vote.

Despite that, Holtschneider said he will recommend the issue to the Fair Business Practice Committee for further study.

Ahead of the vote, the Students for Justice in Palestine (SJP), that submitted the referendum, set up a "refugee camp" at the Arthur J. Schmitt Academic Center (SAC) as well as an "apartheid wall" detailing Israel's alleged human rights violations.

Countering the anti-Israeli demonstration were pro-Israel group Demon PAC and the Jewish fraternity Alpha Epsilon Pi, who set up displays at the Quad, a popular open area spot at the university, highlighting Israel's achievements in technology, human rights and humanitarian aid.

DePaul's Student Government Association received complaints of bias in the wording of the referendum question that read: "Do you think that DePaul should follow socially responsible investment practices and divest its funds from companies that profit from Israel's discriminatory practices and human rights violations?"

Companies like Hewlett-Packard, Boeing, Lockheed Martin, and Caterpillar were highlighted in the referendum.

Despite the complaints, the SGA approved the referendum's wording without changes.

Even before the vote, as the campaign was going on at campus, Jewish students felt targeted and intimidated.

"I'm having to defend myself, my Judaism, my pride in Israel everyday and it's getting a little bit exhausting," a student called Allison told a pro-Israel pannel about the BDS campaign, according to Breitbart.com.

Brett Cohen, the National Campus Program Director for the pro-Israel group StandWithUs, accused the BDS supports of "outright harassment and intimidation of pro-Israel students."

"This entire campaign and entire sit-in going on in the SAC (Schmitt Academic Center) is totally unsafe for Jewish students and I have had a lot of Jewish students text me and call me today and tell me they are not comfortable walking through that part of our campus, which is really disheartening," another student, Rachel, said.