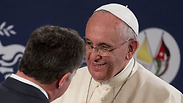 Pope Francis meets with Jordanian King Abdullah II
Photo: AFP
Pope Francis landed in Jordan on Saturday afternoon to start his three-day trip to the Middle East. But before he landed, he had a special message to send to President Shimon Peres.

As the pope's plane was flying through Israel's airspace, the pilot passed on a message from the pontiff to the president.

"As I make my pilgrimage to the Holy Land, I send cordial and good wishes to you and all the people of Israel. I look forward to meeting with you and to visiting the Holy Land," the pope's message, conveyed by the pilot, said.

Related stories:

The pope concluded his message by invoking "good abundant blessings" upon Peres and the people of Israel.

In a recording of the communication between the plane and the air traffic control, the controller tells the pilot, "copied the message, thank you very much and have a nice flight."


Francis' plane touched down at Amman's Queen Alia International Airport, where an honor guard, Catholic leaders and Prince Ghazi bin Mohammed, King Abdullah II's chief adviser for religious and cultural affairs, met him. He immediately headed to the king's palace in a simple, four-door sedan, a group of motorcycles riding alongside him. Small groups of people waving Jordanian and Vatican flags cheered him as he passed.

At the palace, Pope Francis met with Jordan's King Abdullah II, Queen Rania and their children.

The Pope praised the kingdom for its efforts to "to seek lasting peace for the entire region".

"This great goal urgently requires that a peaceful solution be found to the crisis in Syria, as well as a just solution to the Israeli-Palestinian conflict," he said.

Francis is due to get a firsthand look at the plight of Syrian, Iraqi and Palestinian refugees later Sunday when he celebrates Mass at Amman's international stadium and then meets with some 600 refugees and disabled children at a church in Bethany beyond the Jordan, which many believe is the traditional site of Jesus' baptism.

King Abdullah also touched upon the Israeli-Palestinian conflict in his remarks, saying "The status-quo of 'justice denied' to the Palestinians; fear of the other; fear of change; these are the way to mutual ruin, not mutual respect."

Reuters and the Associated Press contributed to this report.