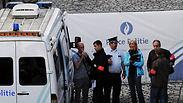 Security forces after the deadly attack at Jewish Museum in Brussels
Photo: Reuters
The deadly attack at Jewish Museum in Brussels on Saturday that left three people killed has inspired world leaders and Jewish officials alike to issue condemnations and urge greater security for Jewish centers throughout the continent.

The attack, which came on the eve of national and European Parliamentary elections, led officials to raise anti-terror measures, and Belgian Prime Minister Elio Di Rupo immediately expressed support for the Jewish community. "All Belgians are united," he said.

Three people were killed and one was seriously wounded in a shooting spree at the Jewish Museum in Brussels. Police detained a suspect who was at the scene and are looking for a second man, suspected of being implicated and who apparently walked away from the scene. A source claimed the police were likely to declare deem the incident anti-Semitic.

"Our country and all Belgians, regardless of their language, their origin or their beliefs, are united together to face this despicable attack on a Jewish cultural center," Elio Di Rupo told the press.

Interir Minister Joelle Milquet said the country has "decided to apply to a maximum level of protection to Jewish sites."

Related stories:

Similar claims were sounded by Jewish leaders who noted past attacks. It is worth noting that the incident came just days after the release of an ADL report on global anti-Semitism which claimed that 27% of Belgians have anti-Semitic positions.


Julien Klener, who heads the Consistoire Central Israèlite de Belgique, the official Jewish umbrella organization in the country, spoke with Ynet described the feeling as one of "horror and shock."

When asked about the Jewish community's relations with locals, Klener said: "We have only good contacts with all members of the country and we have normal relations. The Jewish community is always in danger, but we have had few incidents in recent years."

Jewish community officials also drew parallels between the shooting and the 2012 killing of four people at a Jewish school in Toulouse, France by an al Qaeda-inspired gunman, Mohamed Merah.

"This really reminds of what you experienced in France with Mr. Merah attacking a Jewish school," Maurice Sosnowski, president of the Coordinating Committee of Belgian Jewish Organizations, was quoted saying by BFM TV.

"This is appalling. I would never have imagined something like that happening in Brussels." He said no threats have been issued to the Jewish community.

European Jewish Congress President Moshe Kantor said that, even though it has yet to be established whether the attack was anti-Semitic, "we are acutely aware of the permanent threat to Jewish targets in Belgium and across the whole of Europe."

"European government must send out a clear message of zero tolerance towards any manifestation of anti-Semitism," Kantor said in a statement.

World Jewish Congress (WJC) President Ronald S. Lauder reacted with shock, saying, "Two years after Toulouse, and on the eve of the European elections, this despicable attack is yet another terrible reminder of the kind of threats Europe's Jews are currently facing.

"It is therefore of critical importance that the authorities in Belgium do everything to bring the perpetrators to justice as fast as possible, and that they ensure that in the future adequate protection is given to sensitive sites," he said.

In France, President Francois Hollande condemned the "horrifying killings with the greatest force." In a statement, he expressed France's solidarity with neighboring Belgium and condolences to the families of victims.
Systematic anti-Semitic hatred turns into terrorism
Jewish Institutions in France called Saturday to better fight anti-Semitism in Europe: "This is a horrible thing… the transformation of systematic anti-Semitic hatred turns into terrorism," said Roger Cukierman, president of the Representative Council of Jewish Institutions in France (CRIF).

"We saw that with Ilan Halimi (a Jewish boy kidnapped, tortured and killed in a Paris suburb) in 2006, and in 2012 with Merah (a jihadist who killed four Jews) in Toulouse, and again now in Brussels, " he said.

"These are barbaric acts committed against totally innocent civilians, without any justification, and I think it's really imperative that efforts be made at European level, both in educating younger children to live together (and) increasing necessary protection," in face of what he called "this wave of anti-Semitic acts."

"We are facing a climate of terrorism… this climate is very worrying and requires a lot more vigilance than we have experienced so far," he concluded.

Viviane Teitelbaum, a member of the Brussels legislature, said anti-Semitic attacks reached a peak in the early 1980s but had dropped off before a recent rise in anti-Jewish sentiment.

"It has been a very difficult place to live" for Jews, she said, adding that many young people are leaving the country. She added some 40,000 Jews live in Belgium, half of whom reside in Brussels.

AFP, Reuters and AP contributed to this report