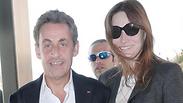 Carla Bruni and Nicolas Sarkozy in Israel
Photo: Anat Mosberg
He used to be the most important person in France, but these days he is touring the world with his wife, a famous singer and former model.

Former French President Nicolas Sarkozy and his wife Carla Bruni landed in Israel on Saturday ahead of Bruni's concert at Tel Aviv's Habima Theater on Sunday evening.

Helping Africa

Hadassah France raises money for Israeli-Ethiopian initiative that is first to provide life-saving anti-AIDS medication to orphans with HIV virus in Ethiopia.

Unlike previous visits, in which Sarkozy had endless commitments and serious issues to discuss, this time he appeared much more relaxed.

As soon as the couple landed on his private plane, he announced: "I love being in Israel and I'm very happy to be here, this time as a guest at the show. It's a different experience."

Bruni, who looked like a million dollars even without any makeup, said: "It's very beautiful here. I love Israel so much. I plan to come on vacation with my children. My dream is to spend time in Tel Aviv, to vacation in Eilat, and I would really like to visit the Dead Sea too. When I arrive in Israel, I see smiling people. There is a special weather here. Something in Israel's atmosphere makes me want to smile."

From the airport, the couple went on to visit an old friend: President Shimon Peres. They were originally supposed to meet him at Sunday's concert, but Peres was forced to cancel due to Pope Francis' visit and decided to invite Bruni and Sarkozy for dinner at the President's Residence on Saturday evening.

"When I come to Israel, I feel at home, especially when I visit my best friend Shimon Peres," Sarkozy said as he and his wife were greeted by the president at the entrance.

Sarkozy asked Peres what he planned to do when he left the President's Residence next month. When he heard about the man's grandiose plans, he asked to cooperate with him in future projects.

The two went on to discuss the situation in the Middle East, and the former French leader expressed his optimism despite the failed peace talks between Israel and the Palestinians, saying that he believed crises could lead to great opportunities.

Sarkozy boasted that his wife has sold all the tickets to her Tel Aviv show. "They had to add seats in the front row because it was sold out," he told President Peres.

Indeed, the Israelis appear to be quite taken by the French couple: When Bruni and Sarkozy arrived at the Carlton Hotel in Tel Aviv on Saturday evening, they were surrounded by dozens of people who would not let them leave before they posed for selfies with them.

Raz Shechnik contributed to this report.