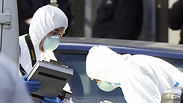 Scene of the shooting
Photo: AFP
Emanuel (54) and Miriam (53) Riva from Tel Aviv, an Israeli couple from Tel Aviv, were killed in the shooting at the Brussels Jewish Museum Saturday, the Foreign Ministry cleared for publication on Sunday. The couple left two daughters behind - 16 and 15 years old.
A third casualty was a French volunteer at the museum, a woman in her 60s. A 24-year-old Belgian man, who suffered critical wounds to the face and neck, is still fighting for his life.
"They were an amazing couple, good people, truly salt of the earth," a family friend of the couple said. "I don't know people like that, who were of great stature. They were also patriots - worked at the Finance Ministry and other government corporations for years. It was just two years ago that they returned from Germany after a mission in Berlin, where they worked as accountants at a government corporations."
Related stories:
The shooter arrived to the Sablon area in Brussels, where the Jewish Museum is located, shortly before 4 pm and opened fire in the museum's entrance wall. He fled the scene shortly thereafter in an Audi.
Prosecutors are looking for a lone suspect. Deputy prosecutor Ine Van Wymersch said the suspect "probably acted alone, was armed and well prepared."
One suspect was detained after he was seen leaving the scene of the crime, but was released soon afterwards.
Julien Klener, the president of the Jewish Consistory of Belgium, told Ynet's Attila Somfalvi about the reaction of the Jewish community in the country to the attack.
Interview with Julien Klener, Jewish Consistory of Belgium (צלמים: אורי דוידוביץ', יוגב אטיאס)
Following the shooting, Belgium's interior minister, Joelle Milquet, said Saturday night that anti-terror measures had immediately been heightened around all Jewish institutions in the country as a precaution.
"We decided to apply to a maximum level of protection to Jewish sites," she said.
However, "it's still too early to confirm whether it's a terrorist or an anti-Semitic attack, all lines of investigation are still open," she said.
"Regarding the motive, we have little information. Everything is possible," Van Wymersch told a news conference.
"We know that the location, the Jewish Museum in Brussels, makes one think of it being an anti-Semitic attack, but we do not have enough to confirm this is the case."
The museum's spokesperson said tha security at the site is usually minimal with no gates or regular guards.
"Most of our visitors aren't Jewish and we didn't want to create an atmosphere of fear," the spokesperson said. "In the last four years we haven't received any threats or hint of violence."
Prime Minister Benjamin Netanyahu condemned the attack on Sunday morning.
"Last's night's murder in Brussels is the result of constant incitement against the State of Israel by various elements in the Middle East and in Europe itself," he said, repeating comments he made the night before.
"There are elements in Europe that rush to condemn the construction of a flat in Jerusalem but do not rush to condemn – or offer only weak condemnations of – the murder of Jews here or in Europe itself and, even worse, welcome unity with a terrorist element such as Hamas, which calls for the destruction of the State of Israel," the prime minister bemoaned.
"We oppose such hypocrisy, we protest against it, we will continue to always state the truth, we will continue to fight terrorism and we will continue to build up our state."

Minister of Immigrant Absorption Sofa Landver called on Jews to make aliyah to Israel and to "not turn a blind eye to the wave of anti-Semitism."
"There's a place here in the state of Israel for any Jew, were are prepared and ready," she said.
Minister of Foreign Affairs Yuval Steinitz also spoke of the Brussels shooting.
"The hatred towards the Jews and the State of Israel is the same hatred and the same thing in a different guise. Anti-Semitism in Europe is often disguised as anti-Israel sentiments, but it is still anti-Semitism and, unfortunately, we're not surprised of yesterday's attack."