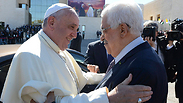 Pope Francis and President Abbas
Photo: Reuters
The offices of the Israeli and Palestinian presidents are confirming that they have accepted an invitation from Pope Francis to visit the Vatican together next month.

At the end of an open-air Mass in the biblical town of Bethlehem on Sunday, Francis invited the Israeli and Palestinian leaders to the Vatican to pray for peace.

"In this, the birthplace of the Prince of Peace, I wish to invite you, President Mahmoud Abbas, together with President Shimon Peres, to join me in heartfelt prayer to God for the gift of peace," the pope said at a Mass in Bethlehem.
WATCH LIVE:
"I offer my home in the Vatican as a place for this encounter of prayer," Francis said, in what Vatican spokesman Father Federico Lombardi described as an unprecedented papal initiative.

Related stories:

"All of us - especially those placed at the service of their respective peoples - have the duty to become instruments and artisans of peace, especially by our prayers," the pope said. "Building peace is difficult, but living without peace is a constant torment."

Netanyahu broke off peace talks last month after Abbas signed a reconciliation deal with one of Israel's most bitter enemies, the Hamas Islamist group that runs the Gaza Strip.

"This is an open invitation," Lombardi said, adding that he hoped the visit could take place before Peres's presidential term ends in July.

The invitation to "men of good will", Lombardi said, "is one of the signs of the courage and creativity of Pope Francis in his efforts to bring about peace".

The Associated Press contributed to this report.