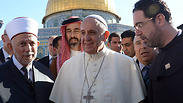 Pope Francis visits the Al-Aqsa mosque
Photo: Haim Tzah, GPO
Pope Francis started the third and final day of his pilgrimage to the Holy Land Monday at the the Al-Aqsa mosque complex on Temple Mount, where he met with the Grand Mufti of Jerusalem, and urged Muslims, Christians and Jews to "work together for justice and peace."
The pontiff, accompanied by the Orthodox Patriarch of Constantinople Bartholomew, recalled that the three monotheistic religions all have the same patriarch, Abraham.
Speaking to the grand mufti of Jerusalem and other Muslim authorities, Francis deviated from his prepared remarks to refer not just to his "dear friends" but "dear brothers."
"May we respect and love one another as brothers and sisters," he said, and added, "May we learn to understand the suffering of others! May no one abuse the name of God through violence!"
He then entered the Dome of the Rock, taking off his shoes to step into the gold-topped dome, which enshrines the rock where Muslims believe the Prophet Mohammad ascended to heaven.
The Associated Press and AFP contributed to this report.