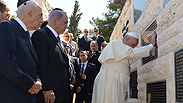 Pope Francis with PM Netanyahu and President Peres at the Terror Victims Memorial
Photo: Avi Ohayon, GPO
Pope Francis, at the request of Prime Minister Benjamin Netanyahu, visited on Monday Israel's "Memorial to the Victims of Terror", a day after praying at an Israeli security wall abhorred by Palestinians.

The impromptu visit to the monument appeared to be an attempt to appease his Israeli hosts following the surprise stop at the hulking concrete barrier, daubed with anti-Israeli graffiti, which separates Bethlehem and Jerusalem.

Netanyahu's office said in a statement that Francis was prompted by the prime minister to stop at the stone and marble memorial, which is engraved with the names of Israeli civilians killed mainly in attacks by Palestinian terrorists.

Related stories:

In a mirror image of the halt at the graffiti-smeared wall, Francis put both hands on the neat stone and marble monument and bowed his head - an image that pleased his Israeli hosts who had smarted in silence over Sunday's impromptu stop.

"I pray for all the victims of terrorism. Please, no more terrorism," the softly spoken pope said at the memorial, which is engraved with the names of Israeli civilians killed mainly in attacks by Palestinian militants.

Netanyahu, standing at his side, thanked him for his words.

"We don't teach our children to plant bombs. We teach them peace, but we have to build a wall for those who teach the other side," he said, accusing Palestinian leaders of incitement.

Israel says the massive concrete barrier is necessary for its security, while the Palestinians say it has engulfed the West Bank land and suffocated the biblical town.

Netanyahu explained to Francis Israel's rationale for building the wall while they were at the terrorism memorial. He showed Francis the section dedicated to the victims of the 1994 bombing of a Jewish association in Buenos Aires that killed 85 people. The Argentinian-born Francis was an auxiliary bishop of Buenos Aires at the time of the attack and later became archbishop.

"I explained to the pope that constructing the fence (separation barrier) prevented many more victims of Palestinian terror, which continues today," Netanyahu said.

The pope on Sunday had unexpectedly intervened in flailing diplomatic efforts to end the generations-old Israeli-Palestinian conflict, inviting the presidents from the two sides to the Vatican to pray for peace.

Both Shimon Peres, who plays no decision-making role in Israeli diplomacy, and Mahmoud Abbas accepted the offer, but there was little hope that the unusual initiative could break decades of mutual mistrust and deadlock.

The Associated Press and Reuters contributed to this report.