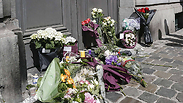 Flowers outside Jewish museum in Brussels. 'It was only a matter of time'
Photo: AFP
It was only a matter of time. The writing – or, to be more precise, the writings – has been on the wall for years. And not just in Europe. I would even dare say that, surprisingly, there have only been a few murderous attacks against Jews or Jewish institutions.

We could go back to Paris, about eight years ago, to the lynching of the Jewish Ilan Halimi; or to Toulouse, about two years ago, to the murder of three students and a teacher at a Jewish school; or to Kansas City, about a month ago, to the murder of three people in two Jewish institutions – and now the attack on the Jewish museum in Brussels.

Alarming Figures

Surveys show remarkably large minority owns up to harboring beliefs that were common in 1930s and 40s but were supposed to have been banished to extremes by Holocaust horrors.

For years, Muslim extremists and their many supporters in many countries around the globe – mainly in Europe – have been systematically inciting against the Jewish state in particular and the Jews in general.

For some reason, those professional instigators are supported by many television and radio stations, led by the British Broadcasting Corporation (BBC) – but also stations in Germany, France, Scandinavian countries and more – which broadcast programs and alleged news reports presenting Israel as a terror state which engages in the coldblooded murder of children and women in the alleged occupied territories and sows havoc in the towns and villages in the Gaza Strip.

The fact that all these "news reports" are baseless, and are anyway false and staged, makes no difference. The European television networks are persisting in their efforts to present Israel as a bloodthirsty monster which they compare to the Third Reich in Germany.

Let's just take one example among many: About a year and a half ago, while IDF soldiers were operating in Gaza as part of Operation Pillar of Defense, almost all television stations in Europe and around the world aired pictures of demolished homes and hundreds of victims, including many women and children of course, under the headline: "This is how the Israelis operate in Gaza." All those pictures were taken from the civil war in Syria and from the activity of Bashar Assad's forces against the rebels.

The problem is that even allegedly normative people in many countries fall victim to these lies. Quite a few times, during my lecture tours abroad, many in the audience stand up and demand an explanation for "your acts of slaughter against a serene population."

There is no wonder, therefore, that in many European countries, where 10% or more are immigrants from Muslim countries, there are murderous attacks against Jews and their institutions. After all, it has been proven long ago that there is no anti-Zionism and no anti-Israel. There is only anti-Semitism.

As long as the authorities in those countries fail to take drastic measures against the incitement and the different instigators, it's clear to me that the number of acts of murder against Jews will only increase.