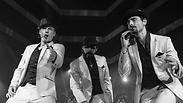 The Backstreet Boys. Three concerts for Israeli fans
After their first-ever concert in Israel sold out within an hour and a half, and after adding a second concert which quickly sold out too, the Backstreet Boys have added yet another show in the Holy Land.

The world's most successful boy band will perform at the Raanana Amphitheater on July 29, 30 and 31 as part of the "In a World Like This" concert tour, named for its latest album, which was released in 2013.

Hot Summer

Legendary British band finally gets date after months of speculation; tickets for Yarkon Park show start at NIS 695.

Like with the first two shows, only 8,000 tickets are available for the third one, which the production said would be the band's final performance in Israel.

The available tickets for the July 31 show include 500 standing tickets which will be sold for NIS 269 (about $77). The rest of the tickets' prices will range from NIS 359 ($103) to NIS 995 ($285).

The ticket sale will begin at 10 am Tuesday on the http://www.2207.co.il website.

The Backstreet Boys was founded in 1993 and consists of Nick Carter, AJ McLean, Howie Dorough, Brian Littrell and Kevin Richardson. The band boasts sales of more than 130 million albums.

The band's eponymous debut album was a huge success, including hits such as "I'll Never Break Your Heart" and "Get Down," as was the second album, "Backstreet's Back," which included the huge hit "As Long As You Love Me."

The success continued with the third album, "Millennium," which included the band's most popular song, the worldwide hit single "I Want It That Way."

Like other 1990s boy bands, the Backstreet Boys found it difficult to repeat their success in the 2000s, although they remained popular in the United States.