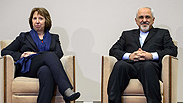 EU Catherine Ashton and Iran's Foreign Minister Mohammad Zarif
Photo: AFP
TEHRAN - EU foreign policy chief Catherine Ashton and Iran's Foreign Minister Mohammad Javad Zarif are to meet Monday in Istanbul to review progress on negotiations toward a nuclear deal, Iranian news agency ISNA reported, citing a source close to the Islamic republic's nuclear negotiating team.
The previously unannounced two-day meeting comes after fruitless talks between Iran and world powers in Vienna earlier this month when no "tangible progress" was made ahead of a July 20 deadline.
Zarif, speaking in Tehran before leaving for Turkey, said a compromise was still possible despite the difficulties.
"They should stop demanding too much. We have our red line, and they too want assurances that our nuclear program will always remain peaceful. We believe these two add up," the state news agency IRNA quoted Zarif as saying on Monday.
Related stories:
"I feel the realism awakened from the last round of talks will bring us closer to conclusion. We may be able to remove one of two of the previous hurdles, or rather face new ones. In any case, we should make an effort to pass through this phase."
Iran considers the right to enrich uranium for nuclear energy a red line but that levels of enrichment are negotiable. Enriched uranium provides power for nuclear generating stations but also, if refined to a high level, for atomic bombs.
The powers want Iran to agree to scale back enrichment and other proliferation-prone nuclear activity and accept tougher UN inspections to deny it any capability of quickly producing atomic bombs, in exchange for an end to economic sanctions.
Zarif said world powers should refrain from additional pressure on the Islamic Republic to force it into concessions.
"Sanctions haven't served them any purpose, only led to our making 19,000 centrifuges," he said, according to IRNA, referring to the machines that enrich uranium.
Zarif left Tehran at around 10 am (5:30 am GMT) and will head to Algeria Tuesday when his meetings with Ashton end.
No representatives from the P5+1 group - the five permanent members of the UN Security Council plus Germany - that is negotiating with Iran over its nuclear activities will be at the meeting, the report added.
No further details of the discussions between Zarif and Ashton were disclosed but several issues reportedly remain.
These include the scope of Iran's enrichment of uranium, which if further purified could be used to trigger a nuclear explosion, and its unfinished Arak research reactor, whose by-product waste could provide an alternative route to an atomic bomb.
Iranian and Western negotiators said major gaps remained after the talks in Vienna, which failed to spark the start of producing an early draft of a comprehensive agreement. Iran's refusal to include its development of ballistic missiles at the nuclear talks also reportedly caused a rift in Vienna.
But all sides have since expressed willingness to continue the talks in the coming months, with the P5+1 seeking to curb Iran's nuclear activities which international monitors suspect could be masking military objectives.
An interim deal reached in November between Iran and the United States, Russia, France, Britain, China and Germany could be extended for another six months should the sides fail to reach a long-term settlement by July 20.
But Iran is eager for a speedier resolution to the conflict.
"If we do not reach agreement by (the self-imposed July deadline), we still have another six months, but our goal is to reach a conclusion in these two months," said Zarif.
Iran, which denies seeking nuclear weaponry and insists its atomic work is for purely civilian purposes, needs relief from damaging economic sanctions imposed over its disputed nuclear activity in order for President Hassan Rouhani to fulfil his election campaign promise last year of bringing Iran out of international isolation.