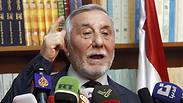 Ambassador Bahjat Suleiman
Photo: EPA
AMMAN - Jordan has expelled the Syrian ambassador from the country on Monday for breaching diplomatic norms, giving him 24 hours to leave Amman, the state-run Petra news agency said.
A foreign ministry statement said Ambassador Bahjat Suleiman, a former general and intelligence chief, had violated diplomatic protocol by posting repeated comments on social media that criticized Jordan.
The Jordanian government declared Suleiman persona non-grata and asked him to leave.
The Western-backed kingdom has harbored more than one million refugees from neighboring Syria's civil war, and had kept a Syrian ambassador despite supporting rebel efforts to overthrow the rule of President Bashar Assad.
Reuters and the Associated Press contributed to this report.