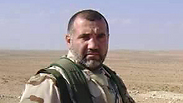 Senior Hezbollah commander Fauzi Ayub was killed in a firefight against Syrian rebels according to a report Monday by the Lebanese news agency Lebanon NOW. The Lebanese-Canadian duel citizen was previously a prisoner in Israel after his 2002 arrest under suspicion of training Palestinian terrorists in the West Bank.

Ayub had originally joined Hezbollah and entered their foreign contingent which was created by deputy commander of the organization, Imad Mughniyah. He was captured by the IDF for reportedly training terrorists who were planning on carrying out attacks inside Israel.

Two years after his capture, Ayub was returned to Lebanon as part of a prisoner exchange deal to bring IDF reservist Elhanan Tannenbaum back to Israel after having been lured to Dubai and taken to Lebanon as a Hezbollah captive.

Related Stories

Ayub was added to the FBI's most wanted list in recent years after using a face US passport to enter Israel and carry out terrorist attacks on orders from Hezbollah. According to indictment letters submitted three years ago, Ayub entered Israel in October 2000 under the fake name Frank Marino Boski.

Since the beginning of the civil war in Syria, Hezbollah has lost hundreds of combat soldiers in their attempts to aid the Syrian army in their fight against rebels. Ayub was wounded one year ago in combat with rebels.