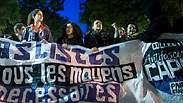 Right-wing protests in France.
Photo: EPA
Preliminary results of European parliamentary elections, whose final tallies were announced Monday night, showed significant growth for far-right political parties in countries like France, Britain, Germany, Austria, Denmark, and Greece, inspiring out-spoken concern among Jewish communities world-wide.

Dieter Graumann, the president of the Central Council of Jews in Germany, said the extremist parties performed "shockingly well", as feared, in Sunday's European parliamentary vote.

He pointed to France, Hungary and Greece, saying in a statement: "Right-wing MPs are now coming into the European Parliament from all over Europe in order to implement their anti-European and extremist course."

Related Stories

"Democratic parties are now called on to curb this way of thinking and to defend and maintain European values," Graumann said.

Graumann also described as "intolerable" the winning of one seat in the European Parliament by the extremist anti-immigrant National Democratic Party of Germany (NPD), which faces a bid to ban it.

A few of the extremist winners such as the NPD are self-proclaimed neo-Nazis and have gained significant reputations for anti-Semitic rhetoric. Another such party is Greece's Golden Dawn which gained three seats in the EU's parliament for the first time in history.

Mainstream European politicians also have reason to fear the rise of the right as the majority of these parties are labeled as Euroskeptics, or anti-integration when it comes to Europe. Additional platforms include extreme nationalism and anti-immigration policies.

The Anti-Defamation League (ADL) released a statement stating concern over the elections in which Golden Dawn won 10 percent of the vote in Greece and the National Front in France got almost 25 percent.

"There is no doubt that political extremism is on the rise in Europe, and along with it anti-Semitism is rising as well," said Abraham H. Foxman, the ADL's National Director. "The success of extremist political parties, both on the far-right and far-left, has never been good for democracy or for Jews and other minorities. The continuing trend in Europe toward support for these parties is cause for heightened concern."

The elections come just after a shotting at a Jewish museum in Brussels, which was widely condemned as an anti-Semitic terrorist attack. An Israeli couple died in the shooting along with a French woman and a Belgian, fueling election fears that anti-Semitic attacks could run rampant as the right gains political power.
European Jews Supporting the Right
However, Israeli Jews living in Europe spoke to Ynet and expressed that they weren't quite as alarmed at the news, taking the point of view that these parties could play a significant role in combating the increasing stream of Muslims and Islamic extremists that many worry are jeopardizing Europe's democratically free mentality.

"I live in Dortmund (western Germany), which is supposedly the city with the greatest support for the far-right and neo-Nazis, but I don't feel it, and I've never run into them on the street," said Maya, a 23-year-old Israeli from Modi'in who moved to Germany to be with her partner who lives there.

"Most supporters of the neo-Nazi parties and the neo-Nazis themselves live in a very specific area of the city, and the activists there conduct peaceful demonstrations with signs, so I don't feel it so much," said Maya.

"Every country has its extremist parties and somehow they always manage to grab positions of power. I don't believe that this will lead to anything more. In Germany it's only a matter of time until the neo-Nazis will return to take some part in politics, but I don't think that this will come close to any level of danger."

"Of course if the situation here gets extreme and the anti-Semites increase and I get shouted at in the street, I'll return to Israel. But I don't see that happening," concluded Maya.

According to polls, the Danish People's Party from Denmark made considerable gains in the elections, despite its right-wing agenda, but the local Jewish community sees the party as exactly the opposite of a threat. According to the manager of Copenhagen's Chabad House, Rabbi Yitzhak Leventhal, the Danish People's Party is Denmark's biggest supporter of Israel and the Jewish community.

"The Danish People's Party is already strong in Denmark. It's the second biggest party in the government. In any case I wouldn't label them as an anti-Jewish party. One or two of their members are Jewish even and they receive many voices from the Jewish community in the country," said Leventhal.

"Of course every party has its negative sides, but I got to see the head of the People's Party a few times at events by the Israeli embassy in Denmark. There's no way I would color this political party in black."

"If I can speak truthfully, there are many in the Jewish community who think that this party will stand up against the surging wave of Islam, which presents a serious threat. The party respects the interests of the Jews and Israel so that not everything seems so black and white," said Leventhal.

French Jews, many of whom vacation in Israel at this time of year, seemed to be more worried than most Europeans, such as Sammy Elbaz who spoke to Ynet from Independence Square in Netanya.

"We worriedly followed the results. They (the results) need to worry not only French Jews, but all the Jews in Europe. I would suggest that everyone leave and come to Israel, but that's not realistic because there are lots of older people who are waiting for their pensions, or families with kids, or people with businesses. It's not possible to leave everything behind," said Elbaz.

AFP and Raanan Ben-Zur contributed to this report.