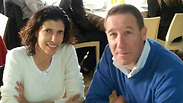 Emanuel and Mirian, victims in the recent shootings.
"We couldn't ask for better parents. Loving, caring and good-hearted, who most of all wanted the best for us," wrote Shira and Ayelet Riva in a letter in memory of their parents Emanuel and Miriam Riva, who were killed in the shooting at the Brussels Jewish Museum Saturday, just hours after their bodies arrived in Israel.

In the final letter to their parents, the daughters (16 and 15 years old) wrote that "they went abroad to celebrate their 18th anniversary. Before the trip they promised us we would do a lot of things together after they return, but they won't come back to us.

Coffins of Emanuel and Miriam Riva, victims in the recent shooting attack, arrive at Ben Gurion Airport (צילום: רשות שדות התעופה)

"We know that they will always be with us in our hearts and souls, and our hearts will forever be with them. We love and miss them very much," the daughters added. The couple's coffins arrived to Israel Sunday night and will be buried at Kiryat Shaul Cemetery at 5 pm.

As far as authorities have determined, the shooter arrived to the Sablon area in Brussels, where the Jewish Museum is located, shortly before 4 pm Saturday and opened fire in the museum's entrance court. He fled the scene shortly thereafter in an Audi.

Related stories:

Prosecutors are looking for a lone suspect. Deputy prosecutor Ine Van Wymersch said the suspect "probably acted alone, was armed and well prepared."

One suspect was detained after he was seen leaving the scene of the crime, but was released soon afterwards.

Following the shooting, Belgium's interior minister, Joelle Milquet, said Saturday night that anti-terror measures had immediately been heightened around all Jewish institutions in the country as a precaution.

.

The museum's spokesperson said that security at the site is usually minimal with no gates or regular guards.

"Most of our visitors aren't Jewish and we didn't want to create an atmosphere of fear," the spokesperson said. "In the last four years we haven't received any threats or hint of violence."

On Sunday, local Belgian police released a 30-second video clip from the museum's security cameras showing a man wearing a dark cap, sunglasses and a blue jacket enter the building, take a Kalashnikov rifle out of a bag, and shoot into a room, before calmly walking out.

Footage from attack ( )
Terror in Brussels
Belgian officials said on Monday that the shooting f three people at Brussels' Jewish Museum was probably a "terrorist attack", though some security experts suggested it may have been the work of a hitman rather than an anti-Semitic 'lone

wolf''.

"The fact that all lines of inquiry remain open means that we have no certainty about it being a terrorist attack but it seems very likely to us," spokeswoman Wenke Roggen said.

"The footage shows a person who seems cold blooded and determined," she added.

Some security experts said the way in which the assailant carried out the killings suggested planning and execution by a specialist.

Edwin Bakker, professor at the Centre for Terrorism and Counterterrorism at the University of Leiden in the Netherlands, said the gunman's calm manner indicated he had experience.

He added that no organization had claimed responsibility for the attack, suggesting it was not the work of militants.

Raanan Ben-Zur, Lior Zilberstein, Itamar Eichner and Reuters contributed to this report.