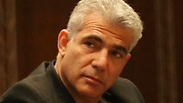 Finance Minister Yair Lapid in Eilat, Tuesday
Photo: Motti Kimchi
Lapid: Unilateral annexations will lead coalition to collapse
Lapid blames Abbas for derailing peace talks, but reiterates support for two-state solution, and slams Bennett's proposal for annexing parts of the West Bank; responds to IDF demands for more money, saying 'army has never managed its funds properly'.
Finance Minister Yair Lapid commented Tuesday on the now defunct peace process with the Palestinians, and said Palestinian President Abbas caused talks to fail. Nonetheless, Lapid claimed that there was no alternative to the two-state solution.

Prime Minister Netanyahu broke off peace talks last month after Abbas signed a reconciliation deal with one of Israel's most bitter enemies, Hamas. Israel said after the announcement that Abbas had chosen Hamas over peace and canceled a session of US-brokered talks, as well as cutting off all ministerial level communications with the PA.

Lapid spoke at an Israeli Bar Association Conference in Eilat and slammed suggestions made by fellow coalition members Naftali Bennett and his Bayit Yehudi party to annex part of the West Bank.

Lapid claimed annexation and unilateral steps on Israel's parts would destroy Zionism as much as the current government.

"If there will be annexation, then there will be no government. There is no solution but the two state solution. Unilateral withdrawal and annexation will only lead to a bi-national nation. Which spells the end of Zionism and I will not have it."

Lapid further slammed the idea of unilateral steps, saying that "you do not lead a struggle without dealing directly with the four million Palestinians connected to it."

Lapid also claimed that Palestinian President Abbas was at fault regarding the collapse of talks, and suggested that "If (Abbas), who is already 79-years-old, is incapable of signing a deal which he feels harms the Palestinian ethos, we need to see who we can negotiate with."
Budget politcs
Lapid also commented on the ongoing struggle over the military budget, which has pitted Lapid against Defense Minister Moshe Ya'alon.

While Ya'alon claims the army is on the brink of economic collapse and cannot continue to function and train soldiers without an immediate NIS 2 million cash injection, Lapid and the Finance Ministry claim the army has mismanaged its funds and already received a large budget supplement.

Lapid reiterated the claim during the conference, saying "There has never been proper management of funds within the army, and every time they cry 'oy vavoy' and they get more money."

The military has taken what some call cynical steps to highlight what it claims is an unprecedented financial crisis, canceling military training and even a memorial ser vice.

Lapid responded to the military's claims, saying "I don't want to get pulled into a mud fight with Ya'alon and (IDF Chief) Benny Gantz, these are dedicated people…but the Cabinet has decided that there is no external threat which threatens us and that influences the budget.

"The Defense Ministry cannot get all the money, they get a budget, sign off on it, and then three months later say they need more money."

Getting into details, Lapid said that "I am willing to give more funding for training, combat soldiers and carrier soldiers, they protect us and that is not up for debate. The heart breaks when it comes to reservists but no one claim the problem is really with them.

"The rehabilitation unit is marred with issues, we need to implement the recommendations of the Goren Committee, as well as (dealing with) pensions, and anyone who has ever entered the Kirya (military headquarters) knows what I'm talking about, real estate there is the most expensive in the world after Hong Kong."

The Goren Committee recommended that the benefits for former IDF combatants who became disabled in military operations be improved at the expense of the non-combatant disabled veterans, as well as a string of additional pension and benefit related reforms.