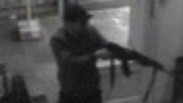 CCTV footage of Jewish Museum shooter
Belgian news network VTM NEWS reported Tuesday night that local authorities arrested a suspect in connection to the Jewish Museum shooting in Brussels that claimed four lives.

The allegations against the suspect have not been confirmed, and it is unclear whether the suspect is the man seen in the CCTV footage walking into the Museum and shooting the victims in cold blood.

According to the report, the federal prosecutor said that there is a suspect in custody on suspicion of involvement in terrorism, but on a separate incident, though they are investigating any connection to the Jewish Museum killings.

An Israeli couple, a French woman, and a Belgian employee were killed in the shooting on Saturday. The Israeli couple, Emanuel (54) and Miriam (53) Riva from Tel Aviv, left two daughters behind – 16 and 15 years old.

Related stories:

Police released a 30-second video clip on Sunday from the museum's security cameras showing a man wearing a dark cap, sunglasses and a blue jacket enter the building, take a Kalashnikov rifle out of a bag, and shoot into a room, before calmly walking out.

Belgian media outlets also reported that the shooter may have carried a GoPro camera on his arm to document the killings.

On Monday, Belgian officials said the shooting of four people at Brussels' Jewish Museum was probably a "terrorist attack" though some security experts suggested it may have been the work of a hitman rather than an anti-Semitic 'lone wolf'.

Meanwhile, Dutch authorities said on Tuesday they were deploying more police officers at Jewish sites, including cultural centres, schools and synagogues because of the weekend shooting.

Stepping up security was a precaution and there were no indications of an immediate threat in the Netherlands, the Dutch Ministry of Security and Justice said.

Security was also ramped up in France, where President Francois Hollande said there was no doubt Sunday's killings of two Israelis and a French woman were motivated by anti-Semitism.

It was unclear how long the measure in the Netherlands would remain in force, but authorities were in regular contact with Jewish groups, a ministry spokesman said.