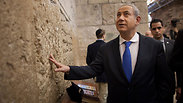 Netanyahu visits Western Wall
Photo: Gettyimages
Prime Minister Benjamin Netanyahu said that "47 years ago Jerusalem was reunited and it will never be divided again," he made the comments in a special Knesset session marking Jerusalem Day on Wednesday.

Following the Six Day War in 1967, Israeli forces captured East Jerusalem and led to what is called the reunification of Jerusalem, which expanded Israeli sovereignty over Jerusalem's Old City and the holy sites it gives home to, including the Western Wall and the Al-Aqsa Mosque.

Netanyahu, who spent significant parts of his childhood in the city, recalled childhood memory from the then divided Jerusalem, saying "We remember it fondly, but it was a capital under fire and siege, and without an exit, with narrow horizons. But one day that all changed. In 1967 the walls fell and we joined the stream of people and poured in the Western Wall."

Netanyahu further praised the social diversity of the capital and stressed that it is the "mother of all towns in Israel, now and forever."
Political powder keg
However, others were not so nostalgic. Opposition Chairman Isaac Herzog (Labor) criticized the government's policy regarding Jerusalem, and said it turned "from a city that was supposed to be a symbol of multiculturalism and inter-faith dialoged to a political and diplomatic powdered keg. "

The government's Jerusalem police has "created a situation in which the world compares construction in Jerusalem with that any settlement outpost." According to him, "the capital is in a sensitive state and which could lead to the city's division."

Netanyahu made similar comments on Tuesday evening at the Mercaz Harav yeshiva seminary, which was scene to a 2008 terror attack which saw eight people murdered and 18 injured.

"47 years ago Jerusalem was reunified, that was the way it used to be and that is the way to will always be," Netanyahu said to a wave of applause from seminary students.

Related stories:

The Palestinians want a state in the West Bank and Gaza Strip, with East Jerusalem as its capital, and thus the issue of dividing Jerusalem lies at the heart of the Israeli-Palestinian conflict. Though Netanyahu has claimed he supports a two state solution, he has been adamant in his objection to dividing the capital, including the predominantly Arab East Jerusalem.

"The Palestinian, Arab and international position is that East Jerusalem is the capital of Palestine and that there will be no accord without the recognition of that fact," PA spokesman Nabil Abu Rudeineh said.

"Continuing this policy, that contradicts the decisons of the international community, has dangerous consequences and it does not aide in creating opportunities to achieve peace. These repeated declarations put more obstacles to the American and international efforts to revive the peace process," he added.

Elaborating on this position and its connection to his family and Israel, Netanyahu said that "Jerusalem is Yad Vashem (Holocaust Museum), Herzl's grave (on Mount Herzl) and the Mount of Olives, where both my grandmother and grandfather are buried as well as (former prime minister) Menahem Begin and our fathers.

"Jerusalem is also Mount Zion and Mount Moria (Temple Mount), and Jerusalem is the Western Wall, Israel eternal. "

Netanyahu vowed to keep Jerusalem united, saying "Jerusalem is our heart, and we preserve our heart, the heart of the nation, and we will never divide our heart. Never!"

On Wednesday Israel marks Jerusalem Day, and some of the sites Netanyahu spoke about have already been scene to riots and tensions which are part of the complex reality in Israel's capital.

Masked Palestinian youths began throwing stones at security forces as the Temple Mount compound as it opened for visitors Wednesday morning. A police force entered the compounded and quelled the riot.

Afterwards a group of youths fled to the Al-Aqsa Mosque and began throwing rocks and firecrackers at security forces. No injuries were sustained.

Noam (Dabul) Dvir and Roi Kais contributed to this report