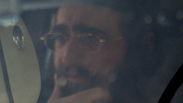 Rabbi Pinto on his way for questioning
Photo: Roee Idan
After 10 hours of questioning on Tuesday, Rabbi Yoshiyahu Pinto returned to Jerusalem's office of the Police's internal affairs unit on Wednesday for further interrogation and negotiation on his deal to testify against former head of the police's anti-corruption unit Commander Menashe Arbiv.

Investigations are expected to continue with Pinto's questioning in the coming days and the rabbi may be required to undergo a polygraph test. At the conclusion of questioning the Attorney General Yehuda Weinstein will decide how to proceed with the case.

After being accused of money laundering in 2012, Pinto was under investigation by Israeli police which was led by Arbiv, who at the time was commander of the police's Lahav 433 anti-fraud unit. According to suspicions Arbiv had over the years enjoyed 'benefits' from Pinto in return for supplying the rabbi with information on the investigation into Pinto's affiliates also implied by police inquiries.

Related Stories

The rabbi's defense team is now requesting for no more than a year of jail time for their client in return for damning testimony against the senior police official.

The indictment is based on an investigation run by the police for over a year on an alleged bribe of $200,000 of officer Ephraim Bracha, in return for information regarding an investigation into an association with which Pinto was involved.

In January, it was revealed that police were investigating senior officers on suspicion of accepting bribes from Pinto.

The allegations included claims that the wife of Rabbi Yoshiyahu Pinto handed a suitcase containing hundreds of thousands of shekels to Bracha's wife.

Pinto is one of Israel's most influential rabbis, acting as a spiritual adviser to numerous politicians and tycoons, and heading many education and welfare organizations.

The rabbi landed on Tuesday from France after spending the last two months in the US. During his questioning on Tuesday Pinto's wife was taken to the hospital in Ashkelon in stable condition.