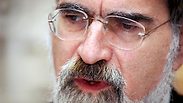 Rabbi Lord Jonathan Sacks
Photo: Reuters
The 2014 Katz Award was bestowed upon Rabbi Lord Jonathan Sacks, Rabbi Zvi (Herschel) Schachter, Rabbi Zalman Nehemiah Goldberg and Rabbi Yehoshua Yeshaya Neuwirth (desaced).

They received the award in a special ceremony and in recognition of their contribution to the application of the Halacha in modern Jewish life.

The award was given in a Jerusalem ceremony held in the presence of Knesset Speaker Yuli Edelstein and leading religious figures like former Israeli chief Rabbi Israel Meir Lau and Rabbi Adin Steinsaltz – a world-renowned Talmud scholar - and Prof. Menahem Ben-Sasson who selected this year's winners.

The event was hosted by Yedidia Meir and Sivan Rahav Meir two senior orthodox media personalities.

At the event, Rabbi Lau said of the recipients that "our discussions weren't difficult, there was unanimous agreement. This evening four of the great rabbis of our generation received the recognition they deserve on the eve of Jerusalem Day."

Marcos Katz, who founded the award along with his wife Adina, said "These are four of the great minds of the Jewish world and their contributions to the Jewish world are immeasurable.

"This evening is our way of showing our appreciation to them for strengthening the role of Halacha in the modern world."

Lord Rabbi Sacks, who spoke on behalf of the four recipients, said, "On behalf of my fellow prize winners I want to thank first of all these extraordinary individuals, Marcos and Adina Katz and the remarkable work they have done for the people of Israel for so long and with such distinction. Happy is the people which contains people like these.

"The power of Torah is to make the most ancient text of religious history, eternally new. Throughout the ages Torah united Jews across space and time."

The Katz Award was established in 1975 by Marcos and Adina Katz and is bestowed upon individual and enterprises engaged in the application of Halacha in the creation of written works and practical endeavors.