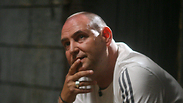 Zvika Hadar
Photo: Tomeriko
Israeli artists will gather on June 8 at Harley Davidson's flagship showroom in New York City for a gala for an Israeli organization for sick children.
"Notnim Tikva" (Giving Hope) is dedicated to improving the quality of life for children at Tel Hashomer Hospital, just outside Tel Aviv. It is the organization's first event in New York, is solely produced by volunteers. A total of artists will perform on the night, including host Zvika Hadar, and musicians Idan Amedi and Eric Berman.
The illustrious venue was provided for free by Asaf Jacobi, president of Harley Davidson of NYC. Jacobi has a personal connection to the "Notnim Tikva."
"Shmuel Moshe, Notnim Tikva's CEO, helped me when my dad was sick last year, he is an amazing person and it is my honor to support his cause," says Jacobi.
NOY, an Israeli-American singer who has just released her debut album, was happy to volunteer.
"I think it is an amazing cause and I don't think there's anything nobler than giving hope to a sick child," she says.
Hila Kuilik, an Israeli Jazz pianist living in NYC, was also happy to support the cause. "It is well known that music has healing powers," she says. "For me, there is nothing more rewarding than to share the gift of music with kids in need."
The producers of the festive gala, Rotem Geslevich and Liron Azrielant, paid tribute to the stars who are turning out to make the night a special one.
"It is incredible how easy it was to get people to support a worthy cause," they said. "When we first started putting together the event, we didn't anticipate that so many artists would be happy to donate their time and talent to make this night happen."
In all, some 300 people are expected to take part in the event, which will begin at 6 pm. There will also be a VIP reception earlier in the evening, which will include personal appearances by Jacobi, Hadar and Amedi.
To attend the event, or make a donation, please visit tinyurl.com/notnimtikva .