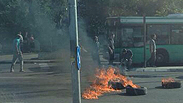 Protests on Nakba Day
Photo: Yossi Nahmia
An IDF soldier from the communications unit, who fired rubber bullets at protesters during Nakba Day clashes in the West Bank that resulted in the death of two Palestinians, was suspended.

The soldier was suspended after an investigation into the incident found that he fired two rubber bullets at a wall in an attempt to scare away the Palestinian rioters.

The soldier has asked the Border Police force's commander for his weapon, which is capable of firing rubber bullets, despite joining the force to perform non-operational duty.

Related stories:

The Border Police commander gave his weapon to the soldier, who returned the rifle after firing the two rubber bullets.

Sources in the military stressed that the soldier was suspended because he was not authorized to participate in crowd dispersal activity, and was not authorized to fire rubber bullets, unlike the Border Police soldiers.

The soldier was investigated by the IDF's criminal investigation division (CID) along with the other soldiers involved, and the investigation cleared him of any suspicion of using live fire.

Military sources added that an examination of videos from the incident aired on CNN found the soldier fired the two rubber bullets at a different time to that in which the two Palestinians were shot and killed.

Protesters shot on Nakba Day (בצלם )

The IDF stressed that investigations conducted at the Judea and Samaria Division, the Central Command and the CID all found that none of the soldiers involved in the incident used live fire, as opposed to Palestinian claims.

"A CID investigation was launched following the incident and when it concludes, its findings will be presented to the Military Advocate General for his opinion," the IDF spokesman's unit said.