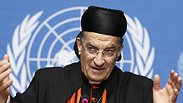 Maronite patriarch Beshara Rai
Photo: EPA
KUFR BIRIM – The former residents of this Arab village in northern Israel, close to the Lebanese border, have wrangled with Israel's governments for the past 66 years to allow them to return, using prayers, protests and court challenges in their campaign.
On Wednesday, they won an influential ally, the head of Lebanon's largest group of Christians, the Maronite Catholics. Cardinal Bechara Rai visited the ruins of Kufr Birim – largely destroyed by Israel in 1953 – and promised to harness the help of the Vatican.
Related stories:
The village was one of the more politically charged stops in Rai's precedent-setting Holy Land pilgrimage, which has been overshadowed by criticism back home. Rai is the first Lebanese religious leader to visit Israel despite the formal state of war between the two countries.
Later Wednesday, Rai was to celebrate Mass on the shores of the Sea of Galilee for former Lebanese militiamen who helped Israel maintain an 18-year military occupation of southern Lebanon.
The militiamen and their families fled to Israel, many with just the clothes on their backs, after Israeli troops hastily withdrew from Lebanon in May 2000.
Many in Lebanon consider the former militiamen as traitors, though a majority of those who returned received relatively light sentences.
Vivian Shadid, whose father was an officer in the Israel-allied militia, said ex-fighters and their families in Israel number about 3,500. Others have either returned to Lebanon or emigrated to the West.
Both the villagers of Kufr Birim and the former militiamen view the cardinal as a rare link to their religious compatriots across the border in Lebanon. The number of Maronites is estimated at about 850,000 in Lebanon, compared to about 11,000 in Israel.
The cardinal's visit "gives us hope that someone didn't forget us ... and someone is fighting for us, that they want us to come back home," Shadid said.
Rai has said he is on a spiritual journey, rejecting claims by critics back home that his visit implies a normalization of ties between Israel and Lebanon. Israel has invaded Lebanon several times since the 1970s. A 2006 war killed 1,200 Lebanese and 160 Israelis.
Lebanon bans its citizens from visiting Israel, but makes an exemption for Maronite clergy.
Rai's Holy Land pilgrimage began Sunday in Bethlehem, followed by stops in Jerusalem and Israel's coastal metropolis of Tel Aviv. In Bethlehem and Jerusalem, he joined prayers led by Pope Francis.
On Wednesday, he visited Kufr Birim to show support for the descendants of some 1,000 villagers uprooted in the Mideast war over Israel's 1948 creation. In all, more than 700,000 Palestinians fled or were forced out during the fighting.
Dressed in a white robe and gold-embroidered miter, he held up two gold-colored crucifixes as he made his way from the main road to the small village church, accompanied by several hundred people. Worshippers clapped and snapped photos.
Later, the cardinal said he would send a letter to Pope Francis on behalf of Kufr Birim. "The only way is through the Vatican because we cannot deal with the state," he said, referring to Israel.
The exodus from the village took place in November 1948, six months after Israel's founding. At the time, Israeli troops told Kufr Birim residents they must leave for security reasons, but would be allowed to return after two weeks, residents said.
Israel didn't keep its word and the Defense Ministry later ignored a Supreme Court ruling allowing the residents of Kufr Birim and another Christian village to return home.
Instead, the military destroyed Kufr Birim in 1953 as part of an attempt to create a "security belt" without Arabs near the border with Lebanon, veteran Israeli journalist Danny Rubinstein said.
Many of the villagers now live in Jish, a community just 5 kilometers (3 miles) from Kufr Birim.
Only the church and a one-room village school remain intact, but villagers celebrate weddings and bury their dead in Kufr Birim.
For the past 10 months, activists have maintained a steady presence, sleeping in tents pitched in the school. They have cleared weeds from the village paths and affixed photos of the original owners to partial house walls still left standing.
The cardinal's visit "can help" with the religious side of things, activist Saher Geries said. "But politically, what we are doing now is going to advance" the issue of return, he added.
A few said they want Rai to negotiate a possible solution directly with the Israeli authorities.
"We need to make progress and reach an understanding with our Jewish brothers," said Shadi Haloul, whose grandfather is from Kufr Birim and who, unlike the vast majority of Israel's Arab citizens, served in the Israeli military.