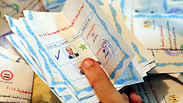 Counting the votes
Photo: AFP
CAIRO - Former Egyptian army chief Abdel Fattah al-Sisi was on course for a sweeping victory in the country's presidential election on Wednesday, according to early provisional results.
Al-Sisi's campaign said their man had captured 93.4 percent with 2,000 polling stations counted, while judicial sources said he had 89 percent with 3,000 polling stations counted.
His only rival, veteran leftist Hamdeen Sabahi, was on 2.9 percent according to the al-Sisi campaign, while the judicial sources put Sabahi on 5 percent, with the rest of the ballots deemed void.
The partial results came 90 minutes after polls closed after three days of voting.
Related stories:
In numbers, al-Sisi's campaign said the former army chief has so far won 4,215,699 votes, while left-wing politician Sabahi received 133,548 votes from the 2,000 polling stations in which counting concluded, Nile TV reported.
Fireworks erupted in Cairo when al-Sisi's results began to emerge. His supporters waved Egyptian flags and sounded car horns on the crowded streets of the capital.
About 1,000 people gathered in Tahrir Square, the symbolic heart of the popular uprising that toppled Hosni Mubarak in 2011 and raised hopes of a democracy free of influence from the military. Al-Sisi supporters honked their car horns and waved flags.
"We are joyful because al-Sisi got so many votes, the results will come after an hour, we are here to celebrate," said Kawther Mohamed, who went to Tahrir with her daughters.
But the former military intelligence chief may not have the popular mandate needed to restore healthy growth to the economy, ease poverty and unemployment, and end costly energy subsidies in the most populous Arab nation.
Turnout was 44.4 percent of Egypt's 54 million voters, according to the judicial sources. That would be less than the 40 million votes, or 80 percent of the electorate, that al-Sisi had called for last week.


The lower than expected turnout figure raises questions about al-Sisi's credibility as leader of the Arab world's most populous nation.
It would also suggest that he had failed to rally the overwhelming support he hoped for after toppling Egypt's first freely elected president, Islamist Mohamed Morsi, following street protests last year.
In a country polarized since a popular uprising toppled Hosni Mubarak in 2011, the lower than expected turnout was linked to political apathy, opposition to another military man becoming president, discontent at suppression of freedoms among liberal youth and calls for a boycott by Islamists.
The two-day vote was originally due to conclude on Tuesday but was extended until 9 pm (6 pm GMT) Wednesday to allow the "greatest number possible" to vote, state media reported.
The Democracy International observer mission said the decision to extend polling raised questions about the integrity of Egypt's electoral process.
"Last-minute decisions about important election procedures, such as a decision to extend polling by an additional day, should be made only in extraordinary circumstances," Eric Bjornlund, president of Democracy International, said in a statement.
Sisi's campaign posted pictures of long lines of voters, some waving Egyptian flags and holding posters of Sisi. "Come out and raise the flag of your country," it said on Facebook.
The Muslim Brotherhood, believed to have one million members, has rejected the poll, describing it as an extension of the army takeover. The group, loyal to Morsi, was outlawed by the military as a terrorist group and saw around 1,000 members killed in a security crackdown.
"Holding these elections is null and void under the military coup ... It cannot be legitimized by elections or in any other way," said Muslim Brotherhood member Mohamed Abdel Hafeez.
Young secular activists, including those who backed Morsi's ouster, had become disillusioned with al-Sisi after many were rounded up in the security crackdown that also restricted protests.
Since he gave a series of television interviews, many Egyptians feel al-Sisi has not spelled out a clear vision of how he would tackle Egypt's challenges, from widespread poverty to an energy crisis and an Islamist insurgency.
Unlike the previous election which brought Morsi to power and was contested by a dozen candidates, al-Sisi faces only one rival: leftist Hamdeen Sabahi, whose campaign rejected the extra day of voting.
The justice ministry said Egyptians who did not vote would be fined, and train fares were waived in an effort to boost the numbers. Local media loyal to the government chided the public for not turning out in large enough numbers, and Muslim and Coptic Christian religious leaders also urged people to vote.
In the Sinai, where Egypt's most dangerous militants are based, gunmen killed an Egyptian soldier, security sources said.
In an eastern district of Cairo, gunmen opened fire at an electricity station in what the electricity ministry called a terrorist attack.