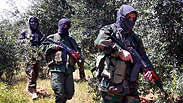 Hezbollah soldiers in Syria
Photo: AP
BEIRUT - A Hezbollah military commander wanted by the FBI was killed in Syria while fighting alongside President Bashar Assad's forces against rebels trying to overthrow him, Lebanese security officials said Wednesday.
Fawzi Ayoub, a commander for the Lebanese Shiite militant group, was killed in combat in Syria last week, said security officials who spoke to The Associated Press on condition of anonymity as they weren't authorized to speak to journalists.
Ayoub, also known as Abu Abbas, was a dual Lebanese and Canadian citizen. He was wanted on charges of attempting to use a forged US passport to enter Israel.
Related stories:
A Twitter account by a pro-Hezbollah media arm known as Mouqawama also confirmed Ayoub's death Wednesday, posting a picture of him performing Islamic prayers, dressed in a military uniform.
The Iran-backed Hezbollah openly joined the Syrian conflict last year. The group's fighters have been instrumental to Assad's success on the battlefield, tipping the balance of power in the now 3-year-old conflict in the government's favor after ousting predominantly Sunni rebels from their strongholds along the Lebanese border and near Syria's capital, Damascus.
The United States has declared Hezbollah a terrorist organization.
Ayoub was placed on the FBI's "Most Wanted Terrorists" list after he had been indicted by the US Attorney's Office in eastern Michigan on August 5, 2009. They accused him of "willfully and knowingly" using and attempting to use "a false, forged or counterfeit US passport in order to gain admittance into the state of Israel for the purpose of conducting a bombing on behalf of Hezbollah."
Ayoub was arrested in Israel in June 2002 on charges that he entered the country with an attempt to organize Palestinian attacks. He was released two years later in a prisoner exchange between Israel and Hezbollah.