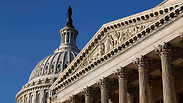 The US Capitol.
Photo: Reuters
Jerusalem Day celebrations moved to Washington's Capitol Hill on Thursday, where the US Congress welcomed eleven members from the Knesset including the director-general of the Israeli parliament for an event that was also be attended by leaders of America's Christian and Jewish communities.

"Our strong and bipartisan relationship with the US Congress is more important than ever during this time of increasing volatility in the region," said Speaker of the Knesset Yuli Edelstein.

Organized by the Israel Allies Foundation and the Congressional Israel Allies Caucus, the event was attended by Israel's Deputy Minister of Foreign Affairs Tzachi Hanegbi (Likud) as well as MK Yehiel Bar (Labor), MK Elazar Stern (HaTnuah), MK Zvulun Kalfa (Bayit Yehudi), and MK Dov Lipman (Yesh Atid).

Related Stories

"The friendship of the American people, and their representatives, to the State of Israel is engraved in our hearts, and we are honored that a delegation from Israel's parliament is being hosted on Capitol Hill by the Congressional Israel Allies Caucus on Jerusalem Day," said Edelstein.

Jerusalem Day was celebrated in Israel on Wednesday with several official ceremonies and speeches from government officials including Prime Minister Benjamin Netanyahu, who took the opportunity to declare that Jerusalem will never be divided, despite the fact that most peace talks with Palestinians have accepted that East Jerusalem would serve as the capitol of a Palestinian nation.

Wednesday marked 47 years since the re-unification of Jerusalem during the 1967 Six Day War.