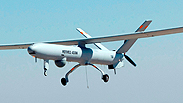 UAVs are one of the IAFs biggest expenses.
Photo: Elbit Systems
Streamlining IDF procurement could potentially save Israel's defense apparatus tens of millions of shekels every year, according to recent data from the defense comptroller, which emerged amidst a budget crisis currently being weathered by cutting back on army training.

The comptroller figures were discussed in closed meeting about two weeks ago before reaching the hands of Ynet reporters.

"The (comptroller) reviews found that the defense apparatus is being managed using atrophied methods and cover every aspect of IDF procurement, from pencils to airplanes," explained a defense source.

Related Stories

"Everything is legal and according to protocol. The problem isn't corruption or criminal activity, but out-of-date and cumbersome management of procurement on the scale of billions of shekels per year," said the source.

According to the same source, "Many online auctions have been conducted in effective, transparent, and cost-effective manners in various government offices. There's no reason that this won't become acceptable for the defense apparatus."

"In different procurement methods it's possible to shorten negotiation times, effectively manage every project, increase equality between suppliers and reduce the chance of biased tenders. We're talking about potentially saving millions that aren't being utilized."

Comptroller officials checked, among other things, the procurement of unmanned aerial vehicles (UAVs) - one of the biggest expenses of the Israeli Air Force. They recommended to Deputy Chief of Staff Maj.-Gen. Gadi Eizenkot that more tenders be added in an online, dynamic format.

According to comptroller officials, this will allow for higher bargaining capacity and an increase in the supervision and control of military procurement which is done through the acquisitions department in the Ministry of Defense.

The IDF spokesperson's office refused to address the comptroller figures and potential savings saying, "We don't intend to address issues discussed in closed forums."

Last weekend, the Defense Ministry froze all military spending that doesn't affect operational actions, safety, or the direct well-being of soldiers (food, uniforms, etc.).

Sources from the Defense Ministry stressed that until the completion of administrative work on the subject to examine the issue in the next two weeks, no new purchases will be made.