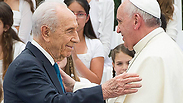 Pope Francis with President Peres
Photo: AFP PHOTO / OSSERVATORE ROMANO
VATICAN CITY - President Shimon Peres and Palestinian Authority President Mahmoud Abbas will join Pope Francis for an afternoon of prayer at the Vatican on June 8, the Vatican said Thursday.

In a brief statement, the Vatican said both sides accepted the date for the prayer meeting, which Francis suggested during his recent trip to the Middle East. Both men immediately agreed.

Francis has stressed that the Vatican is not seeking to jumpstart peace negotiations between the two sides, but merely bring them together to pray. He said he had arranged for a rabbi and a Muslim cleric to lead the prayers, along with him.

Related stories:

"It will be a prayer meeting. It's not to do mediation or find solutions," he told reporters on the flight home from Jerusalem on Monday. "We'll meet just to pray, and then everyone will go home. But I think praying is important, praying together."

He called both Abbas and Peres "men of peace."

The prospects of any breakthrough are slim. Peres, a 90-year-old Nobel peace laureate, holds a largely ceremonial office and is set to step down this summer.

Prime Minister Benjamin Netanyahu has expressed anger with politicians who have reached out to Abbas at a time when the Palestinian leader is reconciling with the Islamic militant group Hamas.

Israel considers Hamas, which controls the Gaza Strip, a terrorist group.

There was no comment Thursday from Netanyahu's office.

The latest round of US-brokered peace negotiations collapsed in April.

Francis' prayer meeting falls on Pentecost Sunday, an important feast in the Catholic Church which celebrates the descent of the Holy Spirit on the apostles. It formally marks the end of the Easter season, and Francis is due to celebrate Mass that morning in St. Peter's Basilica.