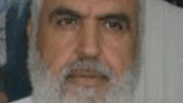 A member of Hamas' Shura Council, who was arrested last month when he tried to cross the border from Jordan into Israel, has shed more light on Hamas' ties to the Islamic Movement in Israel, the Shin Bet said on Thursday.

Mahmoud Mohammad Issa Tuama, who was born in Tulkarm and has been living in Saudi Arabia, told the Shin Bet of the extent of the cooperation between Hamas and the Islamic Movement in Israel in general and specifically in Jerusalem, particularly in the financial field.

According to Tuama, Hamas has funded Islamic Movement projects in Jerusalem. One such project paid for religious lessons for Arab youths on the Temple Mount, in an attempt to prevent Jews from entering the holy site. Hamas paid hundreds of youths NIS 4000-5000 per month to study at the site.

The Shin Bet linked that project to an increase in the number of violent incidents and clashes with Muslim worshippers on the Temple Mount in recent months.

Tuama assessed that the ties between the head of the northern branch, Raed Salah, and the Hamas leadership were kept secret to avoid unwanted attention to the Islamic Movement in Israel.

He also revealed in his interrogation that Turkey and Qatar often host Hamas officials and provide the origanization with political and financial support.

Hamas was raising funds in the Gulf using private companies, mostly in real estate, he said. Several years ago, Tuama transferred 750,000 Saudi rial, that were seemingly meant to fund the building of a mosque in Tulkarm, but in reality were used in Hamas operations.

According to an indictment filed on Thursday at the Samaria Military Court, Tuama was in charge of Hamas' financial overview committee. Up until recently, Hamas's main funder was Iran, but in the last year, Tehran's backing stopped, likely due to Hamas' ties to the Muslim Brotherhood in Cairo.