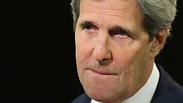 US Secretary of State John Kerry
Photo: AFP
WASHINGTON - US Secretary of State John Kerry said that though he was "disappointed" that US-led peace talks didn't bear fruit, Israel's response to the unity deal between Hamas and the Fatah was "appropriate".

Kerry made the comments in an interview with PBS Thursday evening in which he defended the current administration's foreign policy.

After weeks of angry moves by both sides, Israel suspended its participation in the talks on April 23 after Abbas announced the PLO had reached a unity deal with the Hamas, who run the Gaza Strip. Washington has branded Hamas a terrorist organization since 1993 and has said it must recognize Israel and renounce violence.

But top US officials have already warned that a unity government including Hamas members risks seeing a freeze in millions of dollars of US aid.

Related stories:

When asked about the collapse of talks, Kerry said "obviously, I'm disappointed that the process that … didn't produce the next step," however he reiterated that the peace was still on the table, saying "I don't believe that in the Middle East, you know, either party can afford to simply maintain the status quo.

Kerry further stressed that both Netanyahu and Abbas were willing, under a certain set of conditions to return to talks, and claim that like the US, Israel was waiting to see the formation and character of the Palestinian unity government.

"President Abbas has said that he is prepared to go back to the talks, but he has certain conditions that have to be met.

"Prime Minister Netanyahu and Israel are waiting to see what happens with the Hamas reconciliation… That's an appropriate thing to be doing. We're all waiting to see what happens."

When asked about whether he truly thinks there was a chance to reach a peace accord, Kerry said "my reality check tells me that neither side is going to be able to live for the long haul with the status quo without serious problems evolving. So eventually there'll have to be some discussion about some management of that process.

"Israel's security, which is paramount for the United States and for Israelis, will be better protected by finding a road ahead. Palestinian rights and – and ability to have a state can only come through some kind of political process. And both of those aspirations are what govern life ultimately in that region and the hopes of that region."

Kerry said that at this point the US' "job is to try to push the process forward."
Unity pending
Abbas on Thursday asked Prime Minister Rami Hamdallah to head a new national unity government which will bring together the feuding Hamas and Fatah parties.

The announcement satisfies a five-week deadline following the groups' reconciliation pact on April 23, but the two sides have yet to publish a list of ministers drawn from independent technocrats, suggesting that disagreements persist.

"This letter designates Dr. Rami Hamdallah to form a new transitional government. I wish him luck in this difficult task which he will undertake," Abbas said in a swift ceremony with the prime minister at his side.

Reuters and AFP contributed background material to this report