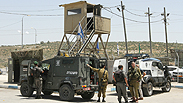 The forces ordered him to halt and take off his coat, at which point he informed them that he was ca
Photo: Ido Erez
Border Guard sappers successfully disarmed an explosive device found on the body of a Palestinian man in his 20s at the Tapuach Junction in the West Bank.

The man was arrested after he arrived at the junction wearing a long coat and acting suspiciously; when ordered to stop, the Palestinian told the forces that he had a bomb.

A search of his person revealed 12 iron pipes connected to one another with electrical wires at his waist, an initial investigation revealed that only one pipe contained explosive material.

Video: Eitan Hubera (צילום: איתן חוברה)

A 20-year-old Palestinian from the Nablus region arrived Friday a little after 10 am at the falshpoint Tapuach Junction, he was spotted by Border Guard forces and raised their suspicions because he was wearing a coat despite the intense heat.

The forces ordered him to halt and take off his coat, at which point he informed them that he was carrying a bomb. According to the forces, he did not resist arrest or forces' attempt to take off his coat, and did not attempt to detonate the homemade blast.

However, a senior source in the regional command told Ynet that "the entire picture is not yet clear. It is possible he could have waited for some one.

In the recent year, dozens of Palestinian youths arrived at checkpoints throughout the West Bank with makeshift explosive devices which made from firecrackers, pipes, cables and other easily attained materials.

Internal Security Minister Yitzhak Aharonovitch spoke with the officers who arrested the terrorists and told their commander "your alertness and professional work stopped a terrorist with a suicide belt. You prevented a terror attack and saved live. I am proud of you."

Gershon Mesika, head of the Shomron Regional Council, also commented on the event and said "this is a serious escalation in Palestinian attempts to harm civilians."

It is far from certain the device was operational, and the IDF stress that they are still investigating.

A Palestinian source claimed that the road leading to the junction has been sealed off by the IDF to both Palestinian and Israeli vehicles.

Last year, IDF soldiers killed a Palestinian terrorist at the same junction. An investigation into the incident revealed that the Palestinian fired a gun at Israelis waiting at a bus stop near the junction; however he was taken out by the forces before he had the chance to harm any of the four Israelis waiting at the stop.