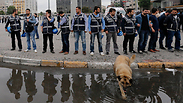 Turkish police mobilized in Istanbul
Photo: EPA
Turkish police on Saturday used tear gas and water cannons in central Istanbul to disperse protesters seeking to mark the one-year anniversary of the start of the biggest anti-government demonstrations in decades.
צילום: רויטרס
Several hundred people gathered on streets leading to Taksim Square, shouting for the government's resignation, when police fired teargas at the crowd, which quickly scattered.
At least 32 people have been reportedly detained by police, with some later released.
Earlier in the day, police blocked access to Istanbul's main square, Taksim, and news reports said some 25,000 police officers and up to 50 anti-riot water cannon vehicles would be deployed around the city.
Prime Minister Recep Tayyip Erdogan warned activists to keep away from the square, saying authorities were under strict orders to prevent protests.
"I am calling on my people: don't fall for this trap. This is not an innocent environmental action," Erdogan said.
Related stories:
In late May and June last year, hundreds of thousands of Turks took to the streets denouncing Erdogan's increasingly autocratic leadership and demanding more democratic freedoms. The protests were sparked by opposition to government plans to uproot trees at Taksim Square's Gezi Park and build a shopping center.
Fanned by outrage over the often brutal reaction by police, the demonstrations soon spread to other cities and developed into Turkey's biggest protests in decades. Thousands were wounded and at least 12 people have died in anti-government protests in the past year.
A group of architects, environmentalists and city planners who oppose Gezi Park's development said its members would march to Taksim despite the ban.
"If you go there, our security forces are under strict orders, they will do whatever is necessary from A to Z," Erdogan said in a speech in Istanbul. "You won't be able to go to Gezi like the last time. You have to obey the laws. If you don't, the state will do whatever is necessary."
Protests were also expected in Ankara, Izmir and other cities.
Ahead of the protests, CNN correspondent Ian Watson was detained briefly during a live a broadcast. He said that police had kneed him and that an officer later apologized.
A report this week by the Paris-based International Federation for Human Rights said that more than 5,600 demonstrators were being prosecuted for involvement in the protests while no one responsible for the violence against protesters had been sentenced.
The Turkish authorities "are actively engaging in a witch hunt against those who participated in the protests or spoke out," said the federation's president, Karim Lahidji.
Taksim protest has not been forgotten
Turkey has seen a year of turmoil from a corruption scandal to a mining disaster since mass anti-government protests shook the country, and with new demonstrations planned for this weekend, analysts say the events of Taksim Square have not been forgotten.
Last year's protests, which started as a small campaign to save Istanbul's Gezi Park from redevelopment, eventually drew an estimated three million protesters.
Eight people died and thousands were injured as clouds of tear gas wafted through the park on Taksim Square, following an outpouring of anger against Prime Minister Recep Tayyip Erdogan and a heavy-handed police crackdown against the demonstrators.
The unrest created one of the most serious challenges to Erdogan's 11 years in power, although a series of crises over the last 12 months - from a government corruption scandal implicating some of the premier's key allies and a mining accident that killed 301 workers - have sparked renewed outrage against his leadership.
With memories of the Taksim Square violence fresh in people's minds the country is bracing for the first anniversary of the unrest.
Despite a government ban on gatherings at Taksim Square, activists are calling for a demonstration there this Saturday.
"With millions of people, we will be on the squares," Taksim Solidarity, an umbrella group of labour unions, civil society groups and opposition parties, said in a statement.
The call has raised the prospect of new clashes, after earlier this month, police confronted protesters trying to defy a May Day ban on demonstrations on the square.
Last week, two people died in a working-class district of Istanbul after clashes between police and demonstrators, in the area to commemorate the death of a teenage boy from injuries sustained during last year's unrest.
"The ghost of Gezi continues to hover over Erdogan," said Soli Ozel, a political scientist at the Istanbul-based Kadir Has University. "The protests may have been quelled, but the discontent is still there and will spread."
"Since Gezi, Erdogan has got into the habit of creating new enemies and scapegoats to consolidate his power. It has won him votes in the ballot box, but this is not a sustainable strategy. You cannot win a war against your own people," he said.
'Before' and 'after' Gezi
Turkey's secular middle-class has been alienated by Erdogan's uncompromising rhetoric, controversial laws including curbs on the Internet and the judiciary, as well as restrictions on alcohol sales and an increase in police violence since last year, experts say.
Erdogan, however, can still call on a huge following, particularly among poorer and more religious voters, who hail him for overseeing a decade of roaring economic growth, and bringing Islam back into the heart of government.
His Islamic-rooted Justice and Development Party (AKP) scored a crushing victory in the local elections in March, boosting Erdogan's ambitions to stand for president in August.
But despite these successes, Halil Ibrahim Bahar, professor of sociology at the Ankara Institute of Strategy, told AFP that the protests continue to affect the political discourse.
"It marked a new threshold for Turkish democracy, gave a platform to voices never heard before. Everything is being defined as 'before' and 'after' Gezi Park in Turkey," he said.
"Call it a revolution or not, it is still a work in progress. It cannot be achieved in months or even years, especially when protesters are up against a formidable foe holding all the aces."
The mine disaster earlier this month - the worst in the country's history - also sparked a wave of fury against Erdogan, who stands accused of remaining indifferent to the plight of the victims.
Protesters clashed with police in several cities after Erdogan played down the accident comparing it to mining disasters from 19th-century Britain.
Some analysts say that the disaster could open up an opportunity for the expansion of the Gezi social base, which was predominantly a young, urban and well-educated movement.
"I think the tragic mining disaster provides an opportunity for the articulation of the traditional elements of the working class with the new urban class that was active in Gezi protests," said Michael Hardt, a political philosopher at Duke University, who was in Istanbul last week to give a series of talks about the anniversary of the unrest.
"This is a turning point in the public recognition of the destruction of Erdogan's neo-liberal policies that create wealth for a few and undermine the well-being of the many including the working class," he said.
Hindsight and hope
Still, many of those who took part in last year's protests are questioning what has been won.
Melissa Kurtcan, a philosophy student, was one of those who pitched a tent on Gezi Park determined to stop the transformation of a green oasis into a new "temple of consumerism".
"At the start, it was purely an ecological protest. But later we were joined by everyone who opposed the government. It was spontaneous, unpredicable, unexpected," she said.
One year on, she says she has not lost hope of changing her country.
"With hindsight, a lot of people think that nothing was won," she said. "On the contrary, I thought that we proved that it was possible to do something.
"Maybe it's no more than an intellectual revolution, but that is itself a victory."
Reuters, AFP and the Associated Press contributed to this report.