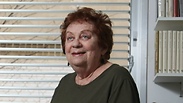 Hanna Maron. 1923-2014
Photo: Avigail Ozi
Hanna Maron, one of Israel's most prominent actresses, died Friday at the age of 90. She passed away at the Tel Aviv Sourasky Medical Center with her family by her side.

Over the course of her decades-long career, Maron appeared in many roles in theater, film and television. She will be laid to rest on Sunday evening in the Kibbutz Shefayim cemetery.

Actress Liora Rivlin visited Maron a week before she passed away, and told Ynet: "She told me: 'I know I'm 90 and I can't go on forever, but suddenly I'm scared.' It was a moment of clarity that I won't forget. She didn't want to die, she was a strong woman who loved life."

Maron was born in Berlin on November 23 1923, and began her acting career at the early age of four, with her mother's firm encouragement and much to her father's discontent. She starred in theater plays, films and radio plays, and had been dubbed a '"wonder kid". Her most famous appearance during those years was in the classic film "M", by German director Fritz Lang.

Maron in Fritz Lang's classic fim "M"

In1933, she immigrated with her family to Israel, and joined the Cameri Theater in Tel Aviv in 1945. She quickly won the hearts of the audience and rised to be one of the most prominent actresses of her generation.

Maron starred in leading roles in numerous plays at the Cameri Theater, as well as in the Beer Sheva Theater. A number of the plays in which she starred include: "He Walked Through the Fields", "The Glass Menagrie", "As You Like It" and "Much Ado about Nothing".

On February 1970, Maron sustained serious injuries during a terrorist attack at the airport of Munich that forced her to have her leg amputated. After a period of recovery and adaptation, Marron took up her natural place on the stage.

"Fate has put me in wars and terrorists attacks, peace ceremonies and historical events," Maron said in an interview with Yedioth Ahronoth a year ago. "The theater has been a part of my life since I was four years old. But the children I gave birth to and the happy family life I had with my late husband, Yaakov Rechter, are the most important events in my life."

Alongside her successful career as a theater actress, Maron also starred in the popular TV series "Krovim, Krovim" (Near Ones, Dear Ones), and in the film "Aunt Clara", "The Vulture", and "Dead End Street".