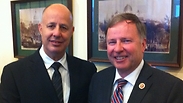 Deputy Foreign Minister Tzachi Hanegbi and Congressman Doug Lamborn at a Jerusalem Day event
Courtesy Israel Allies Foundation
Congressmen from the bipartisan Congressional Israel Allies Caucus vowed this week to work to keep Jerusalem united as Israel's undivided capital.

Congressman Doug Lamborn (R-CO) pledged "with no waivers and no caveats" to do everything in his power to ensure Jerusalem remains undivided.

"The United States was the first nation to recognize Israel's sovereignty a mere 11 minutes after the new state was formed in 1948," Congressman Trent Franks (R-AZ) said on Thursday.

"Just as the United States has assisted the Jewish people in restoring their ancient state, we should lead the way in recognizing Jerusalem for what it is: the undivided eternal capital of Israel," he continued.

Congressman Eliot Engel (D-NY) stressed that support for Israel is one of the few issues both Democrats and Republicans can agree on.

"Support for Israel is bipartisan and strong. It's strong because it has a deep foundation. Israel is the best and strongest ally America has anywhere around the world," Engel said.

The caucus members met with a delegation of Israeli MKs on Thursday at an event hosted at the ornate Gold Room in the Capitol Hill Rayburn Building marking Jerusalem Day.

"If we want freedom of religion and freedom of faith, we must keep Jerusalem united under Israeli sovereignty," Yesh Atid MK Dov Lipman said at the event.

Israel's Ambassador to the US Ron Dermer has expressed hope to move the American embassy in Tel Aviv to Jerusalem soon.

"To divide Jerusalem is to divide the heart of the Jewish people," Dermer said.