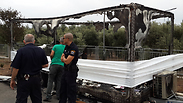 Suspicion of arson
Photo: Hassan Shaalan
Unknown perpetrators set fire at two synagogues in Petah Tikva and Baqa al-Gharbiyye on Saturday.
A trailer used as a Chabad synagogue was set ablaze Saturday morning near Baqa al-Gharbiyye.
All the holy books and cabinets that were in the trailer were burnt in the fire. Passersby reported that they smelled gas fumes in the area.
Fire investigators who arrived at the scene launched an investigation, but they do not yet have final findings regarding the circumstances of the fire.
Related stories:
In another incident in Petah Tikva, an anonymous perpetrator set fire to prayer arrangements and attempted to torch the Torah ark (a closet which contains the synagogue's Torah scrolls) in one of the city's synagogues.
He entered the site, poured flammable liquid on it, set it on fire, and fled. Firefighting crews were called to the scene, and managed to extinguish the fire before significant damage was done to the Torah scrolls. Fortunately, the synagogue was empty of worshippers at the time. Police has opened an investigation into the incident.
Firefighters who were called to scene discovered that the parochet (the curtain that covers the Torah Ark) was completely burned. "The Torah scrolls in the Ark are intact and did not catch on fire, since the Ark has a metal cover that is flame-resistant," the firefighters explained.
Petah Tikva police investigators tried to locate cameras in the area in an attempt to find the arsonist, but without success.
Police stated that all directions are being investigated, including nationalistic and criminal motives. It is yet unclear whether there is a link between the two cases.
Among other possibilities, police are investigating whether the fires were a response "price tag" hate crimes. Earlier this month, unknown vandals defaced a sign at the Masorti Movement's Moreshet Yisrael Synagogue in central Jerusalem, painting swastikas inside Stars of David on it.
In another price tag incident this month, the tires of dozens of vehicles were slashed in the Arab town of Fureidis, and a Star of David and the writing 'Close mosques, not yeshivot' was spray-painted on the wall of the town's mosque.
Raanan Ben-Zur contributed to this report.