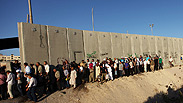 Security barrier in West Bank
Photo: EPA
Israel has denied three future Palestinian ministers from the Gaza Strip entry to the West Bank ahead of the unveiling of a new unity government, public radio said Sunday.

The head of Israel's military administration in the Palestinian territories, Maj. Gen. Yoav Mordechai, had informed the Palestinians that the three would not be permitted to cross from Gaza to the West Bank, the radio said.

Contacted by AFP, the office of Prime Minister Benjamin Netanyahu and the Defense Ministry refused to confirm or deny the report.

Related stories:

Palestinian President Mahmoud Abbas said Saturday that the line-up of a unity government would be announced Monday, following a delay over who would head the Foreign Ministry.

He also said Israel had informed the Palestinians that it would "boycott the government".

"Israel wants to punish us because we have agreed with Hamas on this government," he said

Gaza's Islamist rulers and the Western-backed Palestine Liberation Organization, which is dominated by Abbas' Fatah party, signed a surprise reconciliation agreement in April to end years of rivalry.

Under the deal, the sides agreed to work to form an "independent government" of technocrats, paving the way for long-delayed elections.

Israel denounced it as a deathblow to peace hopes and said it would not negotiate with any government backed by Hamas, which is committed to the destruction of the Jewish state.