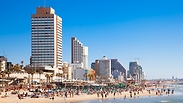 Tel Aviv beach
Photo: Shutterstock
The heavy heatwave that struck Israel on Friday saw thousands of people flock to the country's many beaches, even as lifeguards at most beaches in Tel Aviv and Haifa chose were a no-show due to an ongoing labor dispute with the two municipalities.
By Saturday, only two of Tel Aviv's nine beaches were open. The lifeguards who failed to arrive for work said that they were suffering from stomach flu, but the real reason for their absence apparently is their fight with the municipality regarding working conditions.
Related stories:
On Sunday, the lifeguards were expected to officially declare a labor dispute. The dispute would mean that throughout the week, including the Shavuot holiday on Tuesday and Wednesday, there would be a ban on bathing at various beaches in Israel. In Haifa over the weekend, 22 lifeguards did not show up for work, resulting in the closure of six lifeguard posts; the lifeguards excused their absence by citing "illness".
"From the information we received, the source of the problem is a labor dispute between Tel Aviv municipality and the lifeguards, which has now moved to legal proceedings," said the Interior Ministry in a statement. "The Interior Ministry is not a party to this dispute, as it is the municipality that employs the lifeguards."