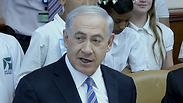 Netanyahu
Photo: Eli Mandelbaum
Prime Minister Benjamin Netanyahu warned world leaders Sunday that recognizing the Palestinian unity government would encourage terrorism across the globe.

At the start of the weekly cabinet meeting Netanyahu addressed the expected declaration of technocratic government based on the Fatah-Hamas unity accords. "I call on all responsible elements in the international community not to run to recognize the Palestinian government of which Hamas is a part and which rests on Hamas. Hamas is a terrorist organization that calls for the destruction of Israel and the international community must not embrace it."

The prime minister stressed: "This will not strengthen peace; it will strengthen terrorism."

Earlier in the day, Israel denied three future Palestinian Authority ministers from Gaza passage into the West Bank ahead of the expected formation of the unity government.

Related stories:

Contacted by AFP, the office of Prime Minister Benjamin Netanyahu and the Defense Ministry refused to confirm or deny the report.

Palestinian Authority President Mahmoud Abbas on Thursday asked Prime Minister Rami Hamdallah to head a new national unity government which will bring together the feuding Hamas and Fatah parties.

The announcement satisfies a five-week deadline following the groups' reconciliation pact on April 23, but the two sides have yet to publish a list of ministers drawn from independent technocrats, suggesting that disagreements persist.

"This letter designates Doctor Rami Hamdallah to form a new transitional government. I wish him luck in this difficult task which he will undertake," Abbas said in a swift ceremony with the prime minister at his side.

Israel suspended US-sponsored peace talks with the Palestinians in April after Abbas agreed the unity pact between his Fatah party and the Islamist Hamas, which is viewed by Israel as a terrorist group.

Israel has threatened Abbas's aid-dependent administration with financial sanctions if he pursues the deal.

Western-backed Fatah rules the West Bank while militant Hamas, which has refused to recognize Israel, holds sway in the beleaguered Gaza Strip.

Fatah and Hamas developed separate governments while national institutions, including parliament, mostly lapsed after Hamas seized control of Gaza in 2007 in the wake of a sweeping win in legislative elections.

Sources close to the government talks say disputes remain primarily over who should be foreign minister.

Reuters and AFP contributed to this report.